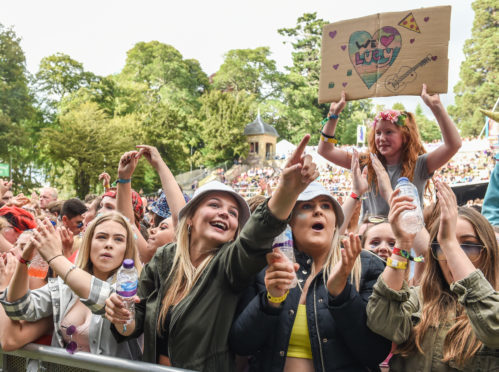 Music fans soaked up the sunshine on day two of Belladrum as the excitement continued to build ahead of last night's headline acts – The Charlatans and Paloma Faith.
Festival promoter Joe Gibbs said the event, which is now in its 15th year, "may well be shaping up to be the best Bella yet" and revealed that organisers are expecting about 21,000 revellers over the weekend.
He added: "I have been out and about this afternoon and there is an absolutely amazing atmosphere out there and everyone is really loving it.
"The weather helps, of course, but everyone is in really good spirits and the place is looking beautiful."
Mr Gibbs confirmed there are a total of 18 stages at Belladrum this year – one more than last year – and highlighted the success of a number of new sideshows.
These include the Gin Palace, which is showcasing a range of local and Scottish gins, as well as chainsaw carving, "kilted yoga" and donkey riding, which he said had proved very popular with families and children.
Yesterday at the Hothouse Stage, a coloured mural was being put in place for a poignant tribute to the lead singer of Frightened Rabbit, Scott Hutchison, with the band's album The Midnight Organ Fight to be played alongside.
The frontman died in May this year, but the band were scheduled to play in the headline slot at the popular Bella venue.
Members of the public were also free to make donations in aid of the Scottish Association for Mental Health.
It was clear yesterday that the festival crowd had been bolstered by many more Friday arrivals in eager anticipation of an eclectic line-up.
Hundreds of people – mainly families – could be seen gathered around a performance ring where stunt-biker Danny MacAskill, along with some of his friends, wowed crowds with an incredible series of daredevil stunts.
Many sought shade from the heat under tents, while lengthy queues could be seen at ice cream vans and water fountains and several were getting into the spirit of this year's festival theme by wearing Bollywood dress.
Performer Ben Hesling, a guitarist in local band Spring Break, who played last night and tonight, is enjoying the festival with his wife, Emily Hesling and their two-year-old daughter, Ailsa.
He said he was really looking forward to experiencing Colonel Mustard and The Dijon 5 today at the main garden stage, where large swathes of the crowd are expected to be wearing yellow in honour of the band.
Primal Scream will close the festival tonight.