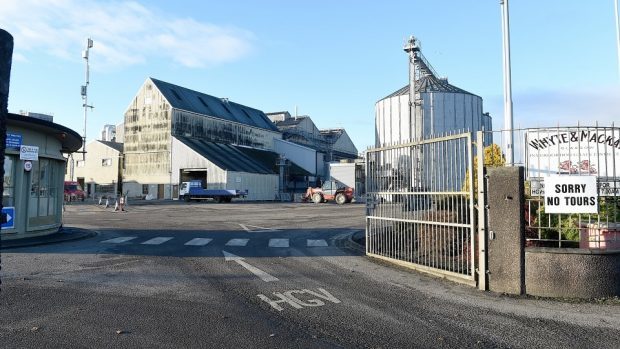 Whisky giant Whyte and Mackay is to cut 21 jobs – a fifth of the workforce – at its Invergordon distillery as it implements a £15 million modernisation programme.
Staff at the distillery will have the option to retrain for newly-created posts – but they have been asked to take a £10,000 pay cut to do so.
Chief executive Bryan Donaghey revealed that the company started their official consultation process with employees on Monday.
The whisky firm announced plans in December 2016 to modernise the 1970s distillery and warned at the time of potential future job losses.
But GMB Union's Highland regional representative, Liz Gordon, said the workforce had been left "blindsided by the scale of the cutbacks", adding: "We anticipated a small number but this is a fifth of the workforce and means production levels will not be maintained.
"As if that wasn't bad enough, to then offer the remaining staff a £10,000 paycut is untenable in light of the fact that they will be required to increase their skills and accept more responsibly.
"With over 20 jobs going and wages being cut, there is going to be a significant and direct impact on the local community. "
Whyte and Mackay previously proposed to invest in a new anaerobic digester at the distillery – an employer of 110 people – to boost efficiency and reduce their carbon footprint.
And a spokeswoman for the whisky producer said yesterday that the anaerobic digester is still an option being considered as part of the distillery upgrade.
The technology would replace the existing dark grains plant which was installed at the distillery in the 1970s and which the company said previously is responsible for around 60% of the carbon footprint of the site.
Once operational, the equipment would turn whisky distillery co-products into renewable energy for the site and the national grid
Mr Donaghey said: "In December 2016 we announced our plans to invest in the modernisation of the Invergordon grain distillery.
"Since then we have been in regular discussion with government and planning officials, colleagues, community and local stakeholders to discuss the likely impact of the investment.
"Indeed when we made our announcement in 2016 we highlighted that an effect of the upgrade would likely be redundancies and/or workforce reskilling."
Caithness, Sutherland and Ross MSP, Gail Ross, said: "The scale of these cutbacks are very severe and will disproportionately affect such a small, close-knit community.
"I am extremely concerned about the level of communication with the workers and the unions and I would say that either facing redundancy or a £10,000 pay cut is an extremely unfair decision to have to make.
"I would prefer to see more investment in the workforce.  Things are uncertain enough with Brexit, this is only going to make matters in an already fragile community even worse."
Cromarty Firth councillor Carolyn Wilson said: "This will obviously be devastating news for those employed at the distillery and a tremendous worry for them and their families.
"It's hard enough for people to make ends meet without having to take a £10,000 pay cut and it puts a lot of pressure on people to consider their future, including older members of staff to take the equivalent of early retirement when they sometimes don't want to.
"These are 21 well paid jobs that support our local economy."
Caithness, Sutherland and Easter Ross MP Jamie Stone described the job cuts as "extremely unwelcome," adding: "Every job and its salary is crucial in remote areas such as this.
"I shall hold discussions with the community to find out what is going on as soon as possible, and see what I can do to help the employees involved."