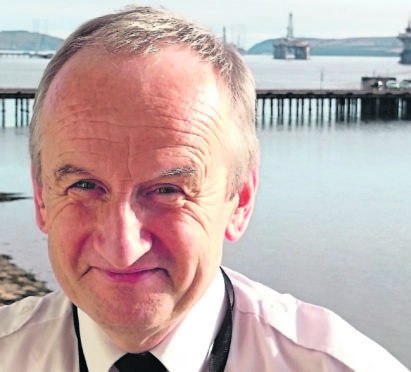 A Highland marine supervisor has become only one of 24 people in the UK to be awarded 'Harbourmaster' status.
Graham Grant has worked at the Port of Cromarty Firth in Invergordon for 33 years, and is one of a team managing the harbour's water-borne operations.
He has become one of only 24 people in the UK – seven in Scotland – to have been awarded a Harbourmaster's Certificate by the Maritime and Coastguard Agency.
Graham, from Invergordon studied for two years to gain the certificate.
This involved providing 13 units of evidence-based work, which was assessed by two serving harbourmasters.
This was followed by a gruelling face-to-face interview with two other harbourmasters, where he was intensely questioned on the work already completed.
The course units covered all aspects of port operations including planning for and managing port marine emergencies and periods of disruption, managing marine conservancy responsibilities, operating a safe pilotage service and managing port vessel traffic.
He said: "I'm a great believer in life-long learning and I appreciate having an employer who is forward thinking in their approach to allowing someone with 33 years work experience to continue to learn.
"I had to fit the studying into my free time, with tight timescales, so juggling a busy job, family and this course made for a gruelling two years, but it has been all worthwhile.
"It is very gratifying to know that you are only one of 24 people in the UK with this certificate."
The married father-of-two added: "The team at the Port have been hugely supportive of my studying and I look forward to working with other members of the team to support them through this qualification in the future."
Captain Calum Slater, general manager of the Port of Cromarty Firth, said: "We are delighted to have another qualified harbourmaster at the Port.
"Graham's achievement is a perfect example of continuous professional development and the culture of learning that we have at the Port.  He has come through an extremely rigorous experience with flying colours.
"We hope that our new marine officers will learn from Graham's experiences and will choose to apply for the course in the coming years."