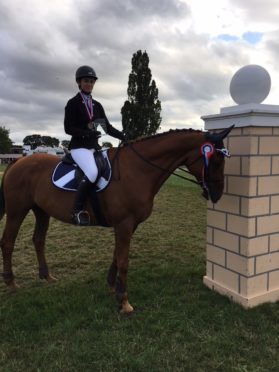 A teenage showjumper from Farr took bronze at the British Showjumping National Academy Championships this week following on from her success earlier this month at the Black Isle Show.
Alannah Haldane, 16, triumphed in both the 1m and 1.10m classes at the north's largest agricultural show before being selected to compete at the National Championships at Stoneleigh Park near Coventry last week.
Miss Haldane said: "It was very exciting and a lot of fun. I learn a lot from watching everyone and I love doing the jumps when competing.
"I would love to compete at a higher level, but it would involve a lot of travelling as there aren't any major competitions up here.
"I'm not sure what I want to do in the future, but I would still like to keep horses involved."
Miss Haldane competed in a mixed team at the championships with the team taking the bronze prize.
The Inverness Royal Academy pupil has been mentored by local trainer Shane Marriman as well as receiving tuition from renowned trainer Ernest Dillon.
Miss Haldane added: "My first instructor Shane has helped me the most, and the Black Isle Show Jumping Academy and Ernest have been great too."
The Highland teen suffers from diabetes after being diagnosed three years ago.
She added: "I am a Type 1 diabetic myself and I just want to show people they can do this too, even though sometimes it's quite hard to keep under control."
Alannah's mother, Donna Haldane, travelled with her daughter to the event and described the experience as "pretty amazing."
Mrs Haldane added: "Up here, we are used to local farms and few people, but it was a whole new experience and we very much enjoyed the occasion.
"She has put in a lot of work into her horse and with her trainers and it is beginning to pay off.
"I am very proud of her keeping it up and she is very disciplined."
Lucy Moss, Scottish development officer, said: "We were absolutely delighted for Alannah and we know they have travelled a huge distance and she has done fantastically well in helping her team scoop the bronze prize.
"We are overwhelmed with how talented our young Scottish riders are."