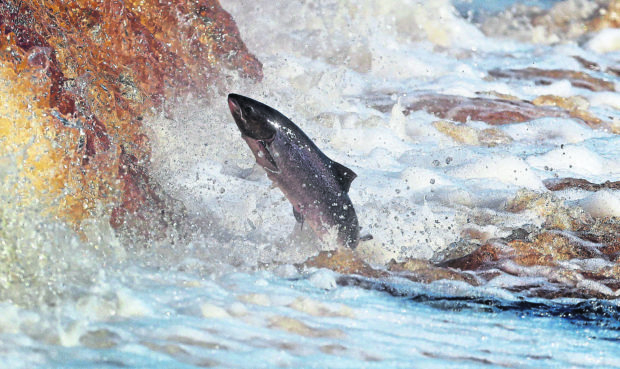 The Scottish Environment Protection Agency (Sepa) is investigating after thousands of young salmon became trapped in the gates of two hydro dams in the Highlands.
About 8,500 salmon smolts had to be removed from the intake gate slots at Scottish and Southern Energy's (SSE) Aigas and Kilmorack power stations on the River Beauly.
SSE used a spyball camera following this removal and identified a small number of dead smolts as a result of the incident, which happened in late May.
A Sepa spokesman said: "Every day SEPA works to protect and enhance Scotland's environment, and we are clear that compliance is non-negotiable."
The spokesman said they received notification of the incident from SSE before adding: "SEPA attended the site to investigate and is working with SSE to understand the cause of this incident and prevent a reoccurrence."
An SSE spokeswoman said they worked with Sepa, the Ness and Beauly Fisheries Trust, Ness District Salmon Fisheries Board (DSFB) and Cromarty Firth DSFB over five days to remove the smolts and release them into the lower river.
The spokeswoman added: "SSE is firmly committed to understanding the reasons behind this issue and identifying a way to reduce the likelihood of it happening again."
Wendy Harpe, chairwoman of Beauly Angling Club, believes a dry Spring this year was a factor in lower water flows through the dams, suggesting the smolts were unable to easily pass through.
She said that the main focus on how to preserve salmon stocks should be at sea but that issues with dams are making the situation worse, adding: "Salmon are under a lot of pressure, not just from climate change but changes in fishing practices and changes in predators.
"Economically it is very difficult for a region like this because the number of people coming to fish is enormous and they are also spending in local hotels."
Chris Conroy, director of the Ness and Beauly Fisheries Trust, said a clear passage along freshwater rivers is essential to sustaining salmon numbers.
Salmon spend between one and three years of their lives at sea before returning to freshwater in order to spawn.
On the River Beauly, juveniles spend about two years in freshwater before they migrate to sea, completing the cycle.
Mr Conroy said that current estimates suggest about 5% of salmon that leave the river are managing to return as adults.