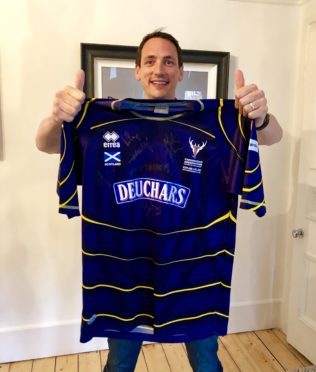 A shirt signed by Runrig and worn by an onstage guest during their farewell concert has raised more than £3800 at auction in support of shinty players across the north.
The number nine Scotland captain shinty strip was worn by Highland born accordionist and founding member of Mánran, Gary Innes, during his on-stage guest performances with the band at their 'Last Dance' shows in Stirling.
Once the final curtain came down, he asked the legendary band to sign the shirt before placing it up for auction online to raise money towards the Scottish youth shinty and development.
Following popular demand among Runrig fans, the auction closed this week having raised £4,232, £3,809 of which will be donated to sustain the future of the sport.
Mr Innes said he was overwhelmed by the support generated from the strip.
He said: "I've been completely blown away by the amount of money the strip has generated for youth Shinty, however it is not a surprise that there has been so much interest as I've never known a band to have a fanbase like Runrig does.
"This money will go a long way to help youth Shinty and it's development which will be fantastic for the sport and it's future. A huge thanks again to the Runrig lads for signing the shirt – true advocates of Scottish culture to the very end."
Mr Innes was the front-cover image and poster boy for Runrig's penultimate album, Everything You See, in 2007 and has subsequently joined the band on many occasions to perform 'Clash of the Ash' since first taking to the stage with them in Drumnadrochit in 2007.