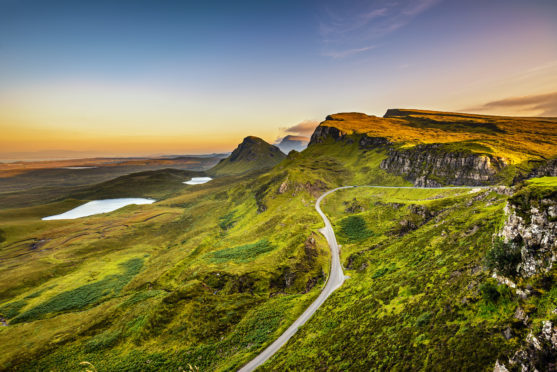 Scotland's long hot summer had led to a 42% jump in demand over three years for those choosing to stay at home rather than go abroad, new figures reveal.
According to Cottages & Castles, the favourable holiday weather resulted in a surge in "staycations" with the trend particularly marked on the Isle of Skye and the West Coast.
In the first seven months of 2018 there was a 42% jump compared to the same period in 2015 and an 18% increase compared to 2016.
The greatest demand over the summer was for the Isle of Skye, the Isle of Arran, Perthshire, Inverness-shire and the West Coast .
Some of the popular areas included Glendale on Skye, Badachro in Gairloch and Lochinver on the West Coast.
That meant good news for those providing accommodation – like Cottages & Castles – who noted that online bookings went up 67% over from January to July.
That was again when set next to the same period from 2015 and the jump from 2016 was 28%.
The most popular properties were those that offer easy access to beaches, cycling and hiking routes and those able to accommodate large families or groups of friends.
Sue Bourne, manager of Cottages & Castles, said: "Scotland has always been a fantastic place to holiday but the outstanding weather we experienced this summer truly put Scotland on the map as one of the best holiday destinations in Europe.
"Our bookings have consistently been increasing year on year but of notable interest was the number of last minute bookings we took this year, significantly up on last year, which is almost certainly in direct correlation with the hot weather. On the back of this we have had a number of repeat bookings for next year."
Mr Bourne thinks that the trend could be a thing of the future amid warnings that foreign travel could be significantly more expensive "after Brexit."
Among the greater expenses predicted by academics are that the cost of flights, travel insurance and data roaming charges could all go up while if the value of Sterling is hit that will mean higher costs for accommodation and food and drink.
She added: "This has perhaps already begun to contribute to the demand for holidays at home."