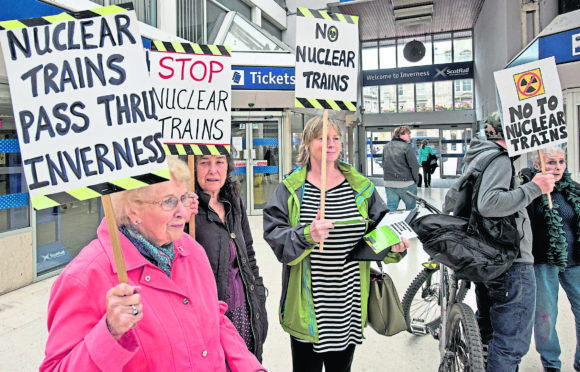 Anti-nuclear protesters from across the Highlands gathered in Inverness to stage a "peaceful protest" against the transportation of nuclear waste along the far north line.
More than a dozen campaigners from Highlands Against Nuclear Transport (HANT) and Cromarty Peace Group (CPG) joined together outside Inverness Train Station to showcase their objections in the movement of radioactive waste from Dounreay in Caithness to Sellafield in England.
Protestors camped outside the doors of the city train station for almost an hour holding up a number of banners highlighting the dangers they claim are being imposed on the region.
During the demonstration, members of the public were also offered the opportunity to sign postcards containing a petition to the UK Government demanding the halting of all nuclear transport across the north.
Simon Evans, of the Cromarty Peace Group, said the group were delighted to be able to contribute towards the cause.
He addedd: "We were very pleased to be involved in this joint event with HANT as we are aware of the concern about these transports and believe this demo will bring this issue to the attention of people who may have no idea that these transports are happening."
The demonstration comes just one month after a train carrying nuclear waste skipped a red signal near Kingussie as the Caledonian Sleeper service was heading north.
Taking to social media following the incident, MP for Inverness, Nairn, Badenoch & Strathspey Drew Hendry said: "A train carrying nuclear waste running a stop sign in Kingussie is unacceptable. Stop signs are there to indicate the danger of proceeding, and for DRS to say that there was no risk, is just not on."
HANT chairman Tor Justad said the incident "should concern everyone in Scotland".
Mr Hendry says he was optimistic that the weekend's demonstration would help shed light on the concerns of Highlanders from across the region.
The MP added: "People across the Highlands have been clear, they do not want nuclear waste transported through their communities and I am sure this peaceful demonstration will be very well supported.  This sort of incident cannot be allowed to happen again."
The transportation of nuclear waste is conducted by rail operator Direct Rail Services and have been in operation since 2012, with an estimated number of journeys of around 40 and 50 per year.