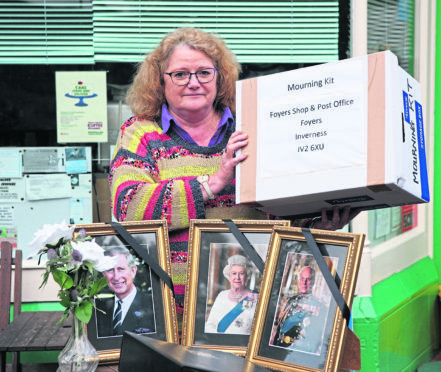 The Highland Council has been slammed for sending out "mourning kits" in anticipation of the death of members of the Royal Family.
The move was branded "bizarre" by one business owner in Foyers who got the package – particularly as it included materials for Prince Charles who is not yet 70.
The kits include a black tablecloth, a vase, a book of condolence and even a guide to mourning.
According to a guide to sent out by the Council certain establishments were "chosen" as a designated place of mourning.
This included the small post office and shop in Foyers on Loch Ness to the south west of Inverness.
The directions state that the book of condolence should be made available on the "first working day" after the announcement of the death.
The book should be placed in an "easily accessible place, but discreet enough to enable those signing the books a moment of privacy and quiet reflection whilst doing so.
"Pages including questionable comments should be discretely removed until such time that a decision can be taken at a senior level on whether the page should be permanently excluded."
---
>> Keep up to date with the latest news with The P&J newsletter
---
The mourning kits apply to "the Sovereign, the Duke of Edinburgh, the Duke of Rothesay or the Duchess of Cornwall."
Jan Hargreaves who runs the Foyer's post office and shop said that she was left quite "puzzled" by the arrival of the package.
She said: "I was just surprised. My husband had spoken to someone who called from the Highland Council and then it had slipped his mind.
"We were nonplussed by it – just puzzled by it really after all there is being ready and there is this. Plus it is a tiny shop and there is no space.
And it costs money, it is a very decent bit of tablecloth and the vase for the flowers is also quite nice – it all costs."
She added: It is all just a bit bizarre really, we don't want to be disrespectful but it caused us to smile. We have it clearly marked in the storeroom."
Penny Junor, a Royal biographer and journalist, said the council should "apologise" because it is "in very bad taste – Charles is not yet even 70 years old."
She said: "The council should apologise to the Queen and move whoever made the decision to another line of work."
A Highland Council spokeswoman said the move may have been prompted by the Convention of Scottish Local Authorities (COSLA).
She said: "I understand that COSLA has issued guidance to all local authorities on the death of a senior national figure."