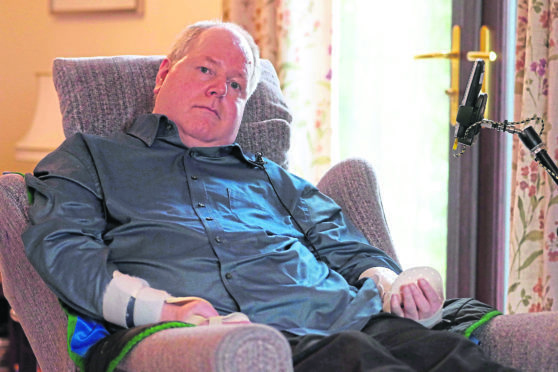 A paralysed man has been left clinically depressed after his 24-hour care package was suddenly removed- leaving him "in pain, degradation and misery".
Ron Fraser, 61, has progressive degenerative MS and cannot move his legs, arms or torso and had been receiving 24-hour care for nine years until it was taken away in May.
The move left Mr Fraser, from Dingwall, feeling "frightened for his future" and he has on a number of occasions soiled himself and then had to wait – sometimes through the night – until someone was available to come to his aid.
As a result of this he has now been diagnosed with depression by his GP who squarely blamed the health board for its handling of the case having informed NHS Highland that his "illness will progress to an early death."
An assessment by social workers earlier in the year deprived the 61-year-old of his care package which they have since refused to reinstate.
That is despite his not only his mental condition deteriorating but a long-term diagnosis that his physical condition can only get worse.
Mr Fraser said: "Social work have received countless letters showing that I have 24-hour needs. It is undisputed by doctors and also my hospital consultant.  NHS Highland has reduced me to a financial transaction that must fit within their budget.
---
>> Keep up to date with the latest news with The P&J newsletter
---
"I am a real person, and what am I to do when there is no one to give me pain relief at night? What am I to do when my urodom bursts or I soil myself? I am expected to wait in pain, degradation and misery until my allotted hours of care arrive."
He added: "I want not to have to have MS, I want not to have to have a 24 hour carer in my house, I want not to have to have to bother with NHS Highland. But I need a carer, I need the help of the NHS – so that basically sums it up.
"I have borne my physical illness with fortitude and humour. But NHS Highland's actions over the past months have reduced me to someone constantly stressed, constantly low in mood and constantly fearful of the future – as evidenced by the letter from my GP."
He added: "I hope the general public will back my cause and that the health board will be forced into reinstating my care immediately."
MSP Kate Forbes said she "found the whole situation exceedingly emotionally difficult to watch" and has called for an urgent investigation.
She said: "I'm not sure how anybody could believe that a man who is paralysed from the neck down is fit to care for himself overnight.
"Tragically, the medical diagnosis is that Ron's condition will progressively deteriorate, not progressively improve.
"As if that wasn't bad enough, this sorry saga has been dragging on for a number of months now, and we have Ron's own GP categorically stating that his clinical depression is a direct result of social work's intervention."
She added: "We have reached the stage where it's having a hugely detrimental impact on his mental health, and that's why we need a resolution."
Miss Forbes said her official appeals to NHS Highland have fallen on deaf ears.
An NHS Highland spokesman said: "We cannot comment on individual cases. But this is an extremely complex case with a number of changing circumstances and considerations.
"What we would say it at that we are extremely sympathetic to this family as we are to others in similar circumstances. Social workers have to make difficult decisions in challenging circumstances but will always make them with compassion.
"We are in ongoing dialogue with Mr Fraser and his family to discuss future care."
---
---
Ron Fraser said: "I am frightened for my future and feel extremely vulnerable.
"I am 61 years old and have had MS for 30 years. For the past nine years I have required 24 hour care. However, I was given 10 days notice that my night package is being removed with the assurance that a suitable replacement service would be available to me. This had proved not to be untrue and there is no help.
"My doctor has informed social work that my illness will progress to an early death. I have had to watch my body disintegrate and have dealt with this with the help of a strong family and humour.
"I am not looking for pity but ask to be supported as I have been to live at home and enjoy my family for the time we have together.
"My wife is 57 but they seem quite prepared to split up a family unit, two children of my own and six grandchildren who I see on a regular basis. How is this person centred?
"My condition will only continue to deteriorate. I am frightened for my future and I feel extremely vulnerable. It appears that social works' main objective is to force me into a home. How can I stay at home on 4.5 hours care per day? They are denying me my basic human rights.
"I feel that I have lost my identity and have been reduced to a financial transaction. How is this person centred?
"The streets social services have me under this past year has taken its toll on may physical and mental health, as well as my wife's.
"Throughout this whole process I feel that I have been totally ignored at all levels."