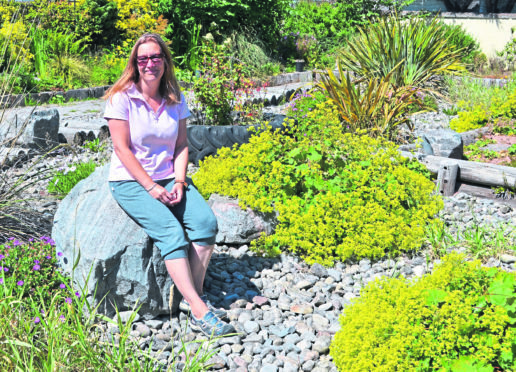 One of Ardersier's best-loved community spaces has had a facelift thanks to community efforts.
The Pocket Garden is an oasis of trees, flowers and vegetables, with paths and decking making it a popular play area for youngsters.
It grew from a worker's yard taken over more than 20 years ago by Ardersier and Petty Environmental Society.
Eventually the space, which at that point only boasted a giant chess board, was handed over to Junior Ardersier & Petty Environmental Society led by dedicated volunteer Dawn Mackenzie.
Children and parent volunteers from the village descend on the garden once a month to do weeding and maintenance work.
Dawn was instrumental in having Beechgrove Garden down to give the garden a complete redesign and facelift in 2004, but fourteen years on, it needed a bit of 'TLC.'
Using a £2000 donation from Scottish Water, the wooden features in the garden have been replaced with the help of GM Forestry and skilled local volunteers.
Dawn said: "The edging round the beds and the sleepers have all been replaced with larch, and the decking areas repaired and treated.
"The walls have been painted, so the garden should be good for a number of years to come."
Planting in the garden includes areas of kidney vetch, the sole food for Britain's smallest butterfly the Small Blue.
Dawn said: "Everyone is excited because we've heard they have been seen on other areas of kidney vetch we've planted on the coast near Fort George, so we are all looking out for them in the Pocket Garden."