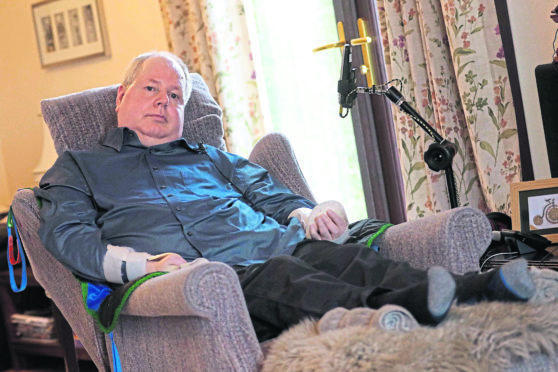 NHS Highland social workers removed round the clock care for Dingwall man Ron Fraser despite the health board's own assessment that 24-hour assistance is needed, it has emerged.
Mr Fraser was stripped of the care he had for nine years despite an email trail showing an internal determination stating that "he requires 24-hour support … to meet his needs."
The 61-year-old fears the move to deprive him of round-the-clock care has been made to "force" him into a care home.
In correspondence seen by the Press and Journal, a senior NHS Highland official states: "Our current assessment is that he requires 24-hour support available to him to meet his needs, no new assessment could identify a position that he requires more than this level of care."
The information is found in emails to health board chairman David Alston, MSP Kate Forbes, as well as a disabilities advocate and a Self-directed Support Scotland official.
Mr Fraser said: "I feel they [the NHS] are trying to force and bully me into a residential care home. How else could you take it when you are dropped from 24 to four and a half hours care.
Anger as paralysed Highland man left clinically depressed after losing his NHS 24-hour care package
"They have admitted that my 24 hour care needs can be met in a residential home but the bottom line is they are not prepared to fund us at home. That is the whole crux of the matter.
"You tend to find that it is a massive machine you are dealing with and they come in with a pre-set agenda regardless of your circumstances."
---
>> Keep up to date with the latest news with The P&J newsletter
---
He added: "And that is regardless of what the doctor says – that is the most worrying thing. There is a very dangerous precedent being set here if they totally ignore doctors' or consultants' advice."
Mr Fraser said his big fear is being separated from his family because his wife has "severe back problems" and "she hasn't been out of the house for months" so moving to a residential home would be devastating.
An NHS Highland spokesman said the health board was unable to "comment on individual cases" but added that it was an "extremely complex case"
He said: "What we would say it at that we are extremely sympathetic to this family as we are to others in similar circumstances.
"Social workers have to make difficult decisions in challenging circumstances but will always make them with compassion."
Kate Forbes MSP said: "We should be moving care into the community so that people can stay at home for as long as possible.
"This is particularly important for Ron Fraser who has been with his wife for almost forty years and has family and friends close by.
"In Ron's case, NHS Highland must recognise that he needs 24 hour care and that needs to be delivered in a compassionate and comfortable way.
She added: "The responsibility to do this lies with NHS Highland and I hope that my ongoing dialogue with them results in Ron getting the care that he needs to stay at home."