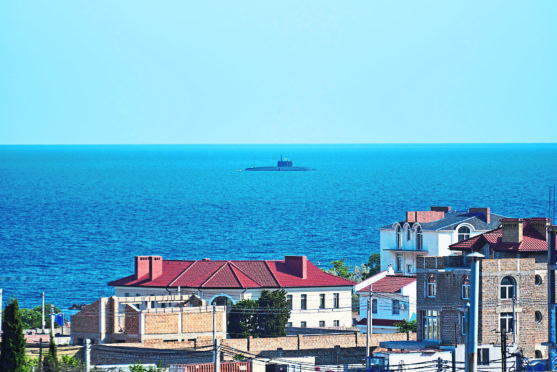 A spate of whale and dolphin deaths along Scotland's west coast is being linked to the hunt for a Russian submarine.
Carcasses of 43 beaked whales have washed ashore in the Outer Hebrides, Islay, Skye, Tiree, Mull and Ulva in the last month — 15 times higher than the annual average.
---
>> Keep up to date with the latest news with The P&J newsletter
---
The scale of the loss – mainly affecting Cuvier's beaked whales – has prompted an investigation by UK and Scottish Governments.
Mariel Ten Doeschate, a data analyst with the government-funded Scottish Marine Animal Stranding Scheme (Smass), said sonar signals from submarines or seismic surveys could be among the contributory factors.
She said it was thought that sonar waves can frighten deep-diving whales, forcing them to surface too quickly and leading to symptons similar to decompression sickness, also known as the bends, in humans.
Ms Ten Doeschate said: "This particular species is very sensitive to sonar because they dive up to three kilometres. This could have a real effect on population numbers."
In May Gavin Williamson, the UK defence secretary said that Russian submarine activity in the north Atlantic had increased tenfold. He said that in 2010 a Royal Navy ship was called on just once to respond to Russian navy vessels, whereas last year the UK had to react 33 times. Nato officials said that Russian submarine activity is at the highest levels since the Cold War.
Smass has been given extra funding by the Department for Environment, Food and Rural Affairs to investigate the deaths. Analysts will work with oceanographers over the coming weeks to find out if submarines have passed through a certain area of the ocean at the same time as the whales.
Earlier this week two more carcasses washed up on the west coast of Scotland in as many days. One was discovered at Bellochantuy on the coast of Kintyre on Monday and another washed up ten miles north of Bellochantuy at the weekend.
Nick Davison, who is responsible for the collection of marine animal stranding reports at Smass, said: "Something has clearly happened and probably on the Irish continental shelf. We have had mass events involving this species in 2008 and the winter of 2014-15 but nothing on this scale. This is unprecedented.
"The cause is unknown. But one of the main suspects is mid-range sonar. These are the deepest diving whales in the world. Sonar could cause them to suffer, in effect, the bends."
Mr Davison added: "We have contacted the military, but whatever has happened has happened in international waters, which could involve any number of navies.
"At the moment we have had 43 deaths from the same species, or believed to be the same species, in a little over a month. Normally we would expect 2.5 deaths per year in Scotland from this beaked whale species.
"We are trying to find out the cause but many of the dead animals are very badly decomposed – which is making investigations difficult."
'Military activity may be the cause of the strandings'
Leading cetacean body Whale and Dolphin Conservation suspects military activity may be the cause of the strandings.
Policy manager Sarah Dolman said: "Mass strandings of Cuvier's beaked whales often result from offshore human activities. Most regularly, due to active sonar used by military forces to locate submarines.
"Sound travels well in deep water and very loud sounds, like active sonar, may frighten whales to the surface too quickly, leading them to suffer decompression-like symptoms, similar to divers. This can kill them.
"Some whales strand and others have been found floating dead at sea as a direct result of military activities offshore. There have been no mass strandings of Cuvier's beaked whales in the Canary Islands, previously a stranding hot spot, since active sonar was banned within 50 nautical miles of the coast in 2004.
"Something appears to be happening offshore that is killing these whales and causing them to come ashore. It is important to find out as much as possible even though their bodies are very decomposed and there are no post-mortem results."
She added: "It needs to be determined what human activities were occurring offshore, including military, during that time period.
"This area should be broad given that past mass strandings have occurred more than 100 nautical miles from where naval exercises were taking place. The investigation should be conducted independently of the military."
A spokesperson for the Royal Navy has said: "There is no evidence that the deaths of these marine mammals have been attributed to any Royal Navy Sonar operations, trials or exercises.
"We take our environmental responsibilities very seriously and continue to work with the relevant UK authorities to reduce any environmental risk."