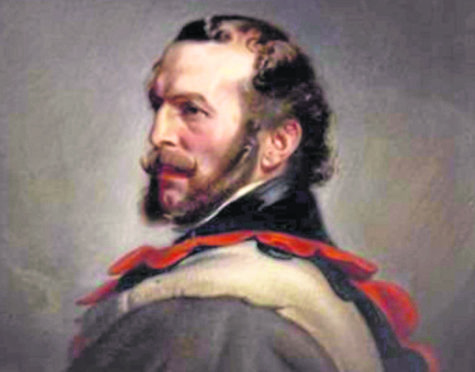 A major expedition is being planned next year to commemorate the exploits of one of Scotland's greatest explorers,
A major expedition is being planned next year to commemorate the exploits of one of Scotland's greatest explorers and campaign for the restoration of his childhood home on Orkney.
John Rae, who lived from 1813 to 1893, was a physician and explorer who discovered the final portion of the Northwest Passage in Canada, and also unearthed the fate of Sir John Franklin's ill-fated polar expedition in 1845, which led to the death of 129 men, including Franklin.
Now, a Canadian-led team, headed by explorer David Reid, is preparing to embark on the Arctic Return adventure next year, during which they hope to negotiate the 650-kilometre trek across the Boothia Peninsula, following the route taken by Rae 165 years ago in 1854.
---
>> Keep up to date with the latest news with The P&J newsletter
---
The project has been organised to pay tribute to the exertions carried out by Rae, a man who became famous for working alongside indigenous people, including the Inuit. But it also has a more pressing aim of helping raise funds for the Scot's original home, the Hall of Clestrain, which was built at Orphir, near Stromness in 1769.
The Canadian team said: "This expedition is driven by concern over John Rae's birthplace which is in urgent need of repair and restoration.
"We absolutely support the [Orkney-based] John Rae Society in its determination to renovate the hall and transform it into a world-class interpretive centre.
"This will not only honour Rae and his many accomplishments, but celebrate Arctic exploration and the importance of indigenous knowledge."
Mr Reid is working on the venture alongside award-winning author and historian Ken McCoogan and the couple will produce a book highlighting both their trip in 2019 and the journey into the unknown by Rae and his colleagues.
Andrew Appleby, who works with the society to promote Rae's achievements on Orkney – and also plies his trade as a craftsman with the title The Harray Potter – said it was crucial that the hall refurb was undertaken as soon as possible.
He added: "John Rae was one of the most significant figures in the history of polar exploration and left behind a massive legacy.
"His reputation is rising as people learn more about him and we are determined to do our best to ensure everybody knows his name."
A JustGiving fundraising page has been launched at
https://www.justgiving.com/johnrae-society
Cannibal claim scandalised society
John Rae was almost written out of history by the Victorians after daring to suggest members of the doomed Franklin polar expedition might have resorted to cannibalism. This scandalised many, including renowned author, Charles Dickens.
But his reputation has spiralled in recent times and a slab in his memory was installed at Westminster Abbey four years ago.
Later this month, the opening of a new Polar Worlds Gallery at the National Maritime Museum in Greenwich in London will host a celebration of Rae in song and music, which is being led by Orcadians and with the input of the Inuit people.
The Scot is also immortalised in marble in St Magnus Cathedral in Kirkwall on Orkney.
Adventurer helped open up trade routes and mapped 1,800 miles of northern coast
As an explorer, Mr Rae helped to bridge new trade gaps across the world by opening up new trade routes and changing the history of maritime trade forever.
By mapping the Northwest Passage in northern Canada, he helped seafarers to cut months of their time at sea from their journeys by connecting the Atlantic to the Pacific.
Among his many other achievements, he also trekked 500 miles by foot from Moose Factory, near the southwestern top of James Bay, to Toronto in order to train as a surveyor.
He would go on to use the skills he learned there in more than four expeditions in the Canadian Arctic between 1846 and 1854, which included more than 13,000 miles of travel and the mapping of approximately 1,800 miles of coast.
It is believed the native Scot owed his expertise in endurance travel to the training and friendship provided from northern Canada's subarctic indigenous peoples.
His life and achievements were honoured at an event yesterday held at the headquarters of the Royal Institute of Chartered Surveyors in London.