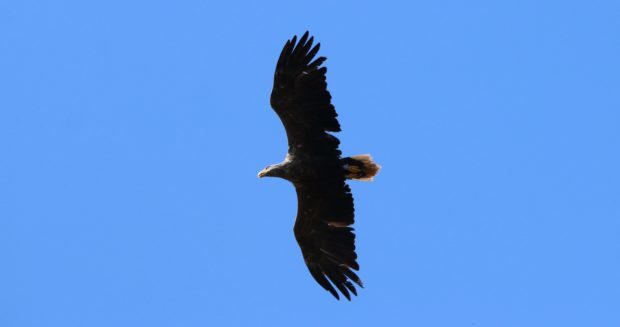 Four years of detective work by wildlife rangers have finally revealed the history and formal identification of a male eagle named "Star".
The bird is a regular feature at the north-west Mull community eagle watch.
Now seasonal ranger Cian Burke-Brown, of the Mull and Iona Community Trust, has succeeded in clinching the tell-tale photographic proof to identify once and for all exactly where Star was hatched and fledged.
Photographs have shown the letters on the bird's ring as C9 over 33 meaning that Star was hatched at a nest site on Morvern.
After four years of exploring Scotland as an immature sea eagle, he returned home and then across the Sound of Mull to pair up with Hope.
They have successfully raised five chicks between them in recent years and this year have fledged a further two chicks.
Dave Sexton, RSPB Mull Officer, said: "Cian did a fantastic job getting these shots and was determined to solve the mystery of where Star originated from. Thousands of visitors from all over the world have watched Star and Hope and their two chicks this year as part of the award winning Mull Eagle Watch five star experience. The hide will be open until mid October as the eagle family will remain nearby offering fantastic views."
Ever since a new unknown male sea eagle paired up with the resident female named "Hope" in 2014, conservationists on the island have been trying to work out who he was.
It is thought the newcomer killed Hope's original mate in a territorial dispute as he sought to take over the nesting area. Her original male known as "Yellow E" had wing tags and his identity was known.
The original mate hatched on Mull in 2006 and was paired with Hope for nearly five years. However, following their last breeding attempt together he was found dead and a post mortem revealed talon wounds suggesting a fight with another eagle.
Shortly afterwards, Hope was seen paired with the new unknown male. He had a colour leg ring blue over silver which identified him as a chick which had fledged somewhere in Scotland in 2010 but after that the trail went cold as no one was able to read the letters on the ring.