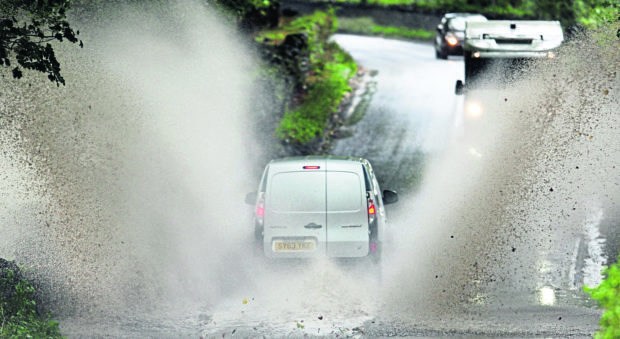 Storm Ali caused disruption across swathes of the north yesterday as motorists, rail and ferry passengers were hit.
SEPA issued a Red or Severe Flood Warning for Easter Ross and the Great Glen after torrential rain across the north.
Police Scotland warned motorists that "conditions for travel may be hazardous and extra caution should be exercised".
The Highlands have a yellow warning in place until 10pm today, with forecasters concerned wind could gust up to 75mph.
Yesterday's high winds played havoc with haulage vehicles in particular as the Kessock, Dornoch, Cromarty and Skye Bridges were all closed to high sided vehicles.
In the west the worst disruption was to the CalMac Ferry services with 20 ferries routes cancelled, including one not related to weather conditions.
The ferry operator warned that "due to the forecast of gale/storm force South West winds" and "associated very high sea conditions" multiple services were cancelled for the day.
That meant no ferries ran through Mallaig and the majority from Oban were also left in port while the Skye to South Uist service was also hit.
In Lochaber a suspected lightning strike just after midnight on Wednesday saw 2,648 homes in Banavie, Arisaig, Achaphubuil, Caol, Mallaig and Fort William without electricity.
But quick action by engineers saw the power back on within 30 minutes – while the majority of customers were still sleeping.
Near Rogart a major operation was launched after a man was thrown into a ravine when a digger overturned.
Helmsdale, Dornoch and Inverness Coastguard Rescue Teams and the Stornoway Coastguard helicopter all raced to the scene.
The Coastguard helicopter Rescue 948 was first to arrive and freed him from the ravine with the assistance of the Dornoch team.
The casualty was treated at the scene for rib fractures before later being taken to Raigmore hospital. It is not known if the incident was weather-related.
In what was a busy day for rescuers the Oban RNLI Lifeboat Mora Edith MacDonald had to head out in storm force winds after reports of a vessel drifting and possibly in distress to the north east of Lismore.
After an extensive search – despite the lifeboat clocking wind speeds of 65mph – it was determined that "the reports were likely to be a false alarm with good intent".