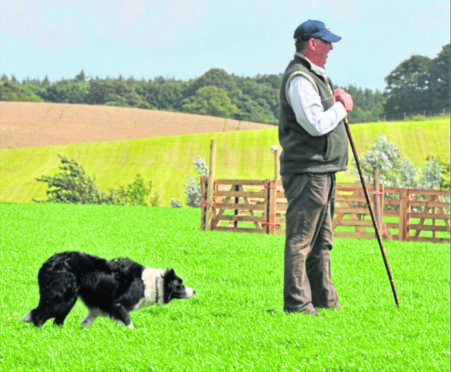 Friends and family have paid tribute to a well-known Lochaber sheepdog trial champion who "loved his life".
Dog breeder Brian Alistair Strachan passed away suddenly on the hillside last Monday. He had a heart condition.
His faithful dog, Sam, was by his side, as Lochaber Mountain Rescue battled with the elements to bring him home to his wife Collette.
The couple, who were married for 25 years, lived in Roy Bridge. Brian was born on November 14, 1944. He was married three times and is survived by five children and four grandchildren.
He was known throughout the Highlands as a breeder of good quality sheepdogs, and the go-to man for anyone with a problem with foxes.
His family were breeders of German Shorthaired Pointers in Banchory, Aberdeenshire. Throughout his career he was a gamekeeper and stalker in places as far afield as Aberfeldy, Northumberland and in Lochaber.
Colette said: "Brian's death on the hillside was very fitting – he was doing what he loved, with his dogs was by his side.
"Brian was a man who loved his life, and his children and grandchildren very, very much.
"He was a man who would turn his hands to anything to make ends meet – at one time he was a driver for Citylink and for Ferguson's."
Friend, Ronnie MacPherson from Granton on Spey, said: "A short time ago I was out on the field with Brian and he said, "when we are in our bath chairs and can no longer be out on the hills, we will think of all the deer we have stalked and the sheepdogs we have run – and it will give us so much pleasure".
"He had a few outstanding sheep dogs in his time,. One exceptional ones I remember was Bonnie. She was the bitch of my dog,"pretty boy" Floyd. She was the mother, grandmother and bitch of many dogs throughout the Highlands and beyond.
"But it was Sam, who was with him when he died, that has pups all over the Highlands."
Brian was a member of the Sunday night domino league in Roy Bridge, a dancer – proficient in the Quickstep and Viennese waltz, and "a good friend to many people".