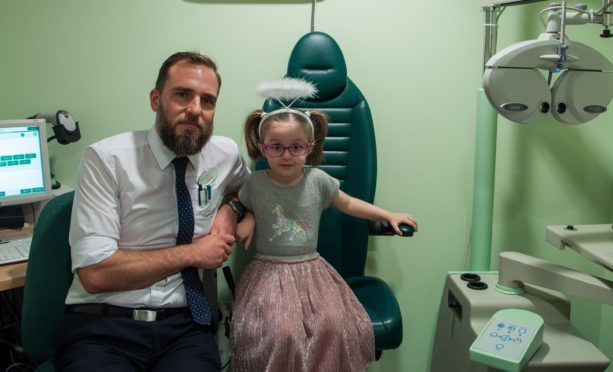 A five-year-old girl from Shetland has undergone a lifesaving operation just days before starting school for the first time after local optician spots signs of a brain tumour.
Etta Hannah from Lerwick was attending her first routine eye check at Specsavers with her mum Jennifer Murray when optometrist Thomas Bruin saw something that worried him.
Although Etta did not appear to have any problems with her eyesight, Mr Bruin saw something behind her eyes that made him refer her for hospital treatment.
Doctors found a huge swelling on the youngsters' optic nerve and she was referred to the Royal Aberdeen Children's Hospital to see a neurologist. There, medics confirmed Etta was suffering from a large brain tumour at the back of her neck which has spread down her spine.
The youngster was rushed to Edinburgh's Royal Hospital for Sick Children where she has since undergone two bouts of emergency surgery; entailing both a shunt being fitted to relieve pressure on the brain and a biopsy being taken, reducing the tumours size by 50%.
Miss Murray added: "If our hospital on the island had an MRI scanner it's possible that Etta's tumour could have been spotted and treated sooner, but thankfully Etta's surgeries have been successful and she was allowed back home to start her first week of primary school.
"I'm so grateful to Thomas at Specsavers, his early detection and perseverance in arranging our appointment with the eye specialist doctor made all the difference. I believe he helped save my daughter's sight."
Etta has now begun 18 months of low level chemotherapy in Aberdeen to keep the tumour at bay.
Mr Bruin said: "We can detect several underlying health conditions from an eye health check; it's not simply changes in prescription.
"During National Eye Health Week this week, and throughout the year, we're encouraging everyone in Scotland to stop and think about their eye health and book that all important test.
"Etta's case, although very rare, is an example of just how vital an eye exam can be."