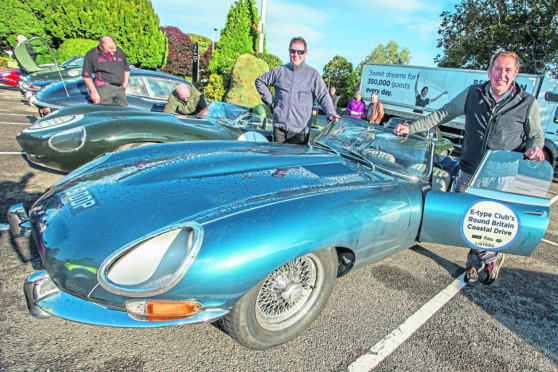 Inverness yesterday welcomed 29 Jaguar E-Type cars as they participated in a 4,000-mile round Britain coastal drive.
The drivers are helping to raise funds for Prostate Cancer UK by taking part in the 19-day event which kicked off on September 17 at Pendine Sands in south west Wales.
The tour around the circumference of the British mainland was originally created in 2016 to raise funds for the charity and it is hoped that this year will add £70,000 to the £150,000 raised in the event's first two years.
Heading as far north as John O'Groats, the coastal drive also takes in Ross and Cromarty, Sutherland, Inverness, Dundee and Angus. It finishes in Tenby on October 5.
The event comprises 19 individual stages, each of approximately 180 miles distance, and will be driven sequentially by groups of Jaguar E-types in the style of a relay. Most entrants choose to drive one, two or three legs, but this year six crews have committed to driving the complete drive.
One of the participants, Johnathan Cole from Ramsgate, bought his vehicle particularly to take part in this event. He was diagnosed with prostate cancer two years ago.
The cars set off from their base at the Kingsmills Hotel in Inverness yesterday morning, with the next stop to be Moray Motor Museum in Elgin.
The Round Britain Coastal Drive was devised in 2016 by E-type Club co-founder Philip Porter, the renowned automotive book publisher and author, after he was successfully treated for the disease.  He said: "It is going extremely well. The scenery in the Highlands is breath-taking.
"The aim was to give E-type Club members a great driving event at the same time as raising funds for, and awareness of, prostate cancer. It was meant to be a one-off event but proved so popular that we're now running it for the third consecutive year. We have cars and crews from abroad, including the States, and even have people who have bought an E-type so they can take part."
Prostate cancer is now the third most common cause of cancer death in the UK and Prostate Cancer UK estimates that £120million is needed for research over the next eight years to halve the number of prostate cancer deaths expected by 2026.
The charity's chief executive, Angela Culhane, said: "We need to bust the myth that this is just an old man's disease that isn't significant."
More details about the cars will feature in tomorrow's Your Car magazine.