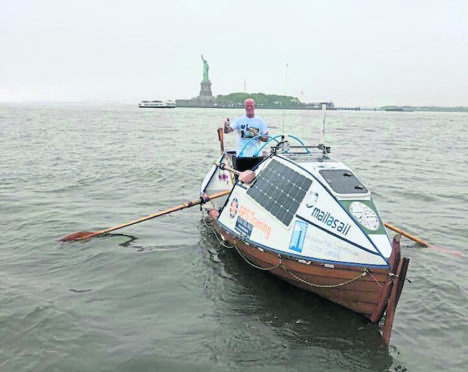 A Lochinver man who attempted to cross the Atlantic in a self-made rowing boat has finally returned home after more than three months at sea.
Duncan Hutchison arrived back in Scotland on Sunday and spent his first full day at home yesterday according to an update on his social media page by his daughter Franci.
She wrote: "Late last night dad returned to Lochinver after being at sea alone for over 100 days.
"It has been an amazing challenge for dad but also a great adventure and inspiration for everyone who has supported him for the last four months to boost the valuable work of WaterAid.
Lochinver rower receives boost from Rangers boss Steven Gerrard during trans Atlantic crossing
She added: "He has certainly done himself, his supporters and all those who benefit from WaterAid proud. Dad's getting used to being on dry land again and walking like Bambi. If you see him make sure he is propped up. The support continues…"
Mr Hutchison's bid to be only the 15th person to complete a west to east row across the Atlantic ended 11 days ago just 860 miles from Land's End but managed to raise almost £24,000.
The attempted started badly on June 5 with him being rescued off the New Jersey coast in a heavy storm, the Sleipnir – his 23-foot hand-made boat – later had to be recovered.
But he eventually got underway ten days later but on his 100th day at sea his navigational and electrical gear packed in forcing him to call for assistance.
His second rescue was more perilous as the boat was almost sucked under the rudder and he was thrown overboard before making it on board a merchant vessel.
Sadly the Sleipnir which took three years to build was lost when the towing line snapped on the way back to New York from where he flew home.