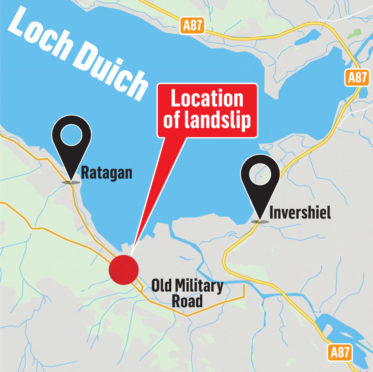 A landslide on the main route over the Mam Ratagan brought traffic to a halt yesterday, with locals unable to get in and out of the villages of Glenelg and Ratagan.
The C1223 Glenelg to Shiel Bridge and the nearby U4927 Ratagan to Letterfearn roads were inaccessible for around four hours yesterday with queues of traffic piling back as locals commuting to work were stopped in their tracks by drifting debris.
The debris had slipped some 150ft down the hillside before it was removed by workers.
Stuck in the queue was local musician and joiner Iain Cameron from Glenelg, who was departing the Glen to head for his wedding venue.
Mr Cameron said: "I was on my way to catch the ferry over to Lewis because I am due to get married on Friday. I was meant to be meeting the minister and our wedding photographer today but we have had to cancel those meetings.
"I left to come over the Mam Ratagan early doors and as I came around the corner I saw this massive bunch of trees and debris on the road.
"The debris drifted all the way from the top road down onto the Ratagan road which left us totally cut off as the Glenelg Ferry has stopped for the season.
"No emergency services would have been able to get into the village.
"We contacted local contractor Paddy Munro who usually deals with these kinds of things but he was on holiday in Malta – but credit to Paddy, he phoned his men to come from another job and they arrived around the same time as the Highland Council boys.
"My future wife thought I was having a joke with her when I told her but she took it well. She is very laid back and has been waiting 10 years for us to get married so it is just another wee story to tell the grandkids.
"The lovely people at Cal Mac have managed to squeeze me onto another ferry so I should get over tonight, all things going well."