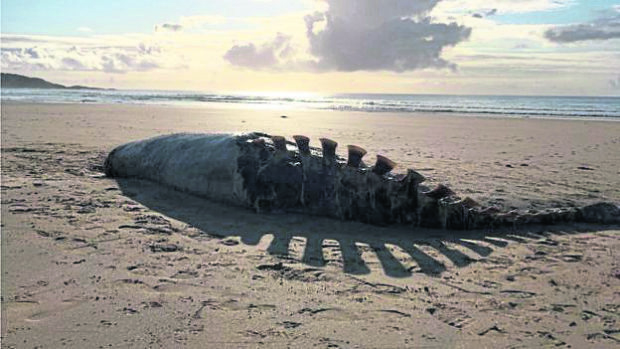 A conservation charity has called for greater protection for sea life off Scotland's west coast after extensive and "pioneering" research that identified the area as a hot spot for whales, dolphins and porpoises.
The "extraordinary biodiversity" was revealed by the first Hebridean Marine Mammal Atlas that was compiled after 15 years of work by the Hebridean Whale and Dolphin Trust (HWDT).
Collectively, the creatures are known as cetaceans and the waters of the Hebrides are teaming with 30,000 sightings of 23 different species or a quarter of the world's known species – including minke whales and basking sharks.
The survey area covered an enormous swathe from beyond Cape Wrath south to Kintyre and Northern Ireland and as far west as St Kilda, taking in the waters in and around the Outer and Inner Hebrides.
Among the trust's discoveries are that the Hebrides provide a vital feeding ground for minke whales and basking sharks and its researchers were the first to suggest that bottlenose dolphins live all year round off the west coast.
The region is one of the most important areas for harbour porpoise in Europe with more than 5,000 sightings over the years – by far the most for researchers on any of the surveys.
Despite the high porpoise numbers being reason for cheer for conservationists, other species of marine life are not so fortunate such as the UK's only resident population of killer whales or orca.
The group of eight individual orcas is called the West Coast Community but it is feared the pod will be extinct within a generation because no calves have ever been seen.
Hump Back whales are also extremely rare – but have made seven appearances since 2004 mostly around Lewis and between Skye and South Uist.
The atlas also notes the variety of impacts humans are having on the marine environment – particularly concerning for the trust are entanglements, marine litter and underwater noise.
All those factors that are monitored during survey work undertaken by the trust with the scale of such threats remaining unclear in some cases.
But climate change is contributing to a rise in sea temperatures in the Hebrides leading to a 20-fold increase in common dolphin sightings because they prefer warmer seas.
For HWDT ongoing research is vital for monitoring such trends and that as well as the whole programme is enabled by its unique citizen science programme.
The atlas celebrates the contribution of made by more than 700 paying volunteers who have joined one of 200 research expeditions on Silurian, making the surveys possible year after year.
It always uses the same rigorous methods, with annual variations in survey effort accounted for – ensuring findings are comparable between years.
This provides long-term data on species' distributions, populations, and behaviours, which is crucial for identifying important areas, and trends and changes in the marine environment.
That HWDT data helped to identify Marine Protected Areas for harbour porpoise in the Inner Hebrides and Minches candidate Special Area of Conservation and for minke whales and basking sharks in the Sea of Hebrides which is a proposed Marine Protected Area.
Dr Lauren Hartny-Mills, Science and Policy Manager at Hebridean Whale and Dolphin Trust, said: "This pioneering research is transforming our understanding of the Hebrides' remarkable cetaceans, while offering new insights about trends and changes in the marine environment.
"We have collected data every year and that enables direct comparison across time going back 15 years. Marine animals live for a very long time so in another way the survey has to take that time as well as monitoring the effect on the marine environment."
---
>> Keep up to date with the latest news with The P&J newsletter
---
Television presenter and patron of the trust, Liz Bonnin, said: "It is increasingly clear that the Hebrides is a truly special place for cetaceans and basking sharks and that we need to do far more to protect them and their environment.
"I had the great pleasure of sailing on Silurian and I am thrilled to be able to lend my support to such an outstanding organisation which works directly towards these goals."
Mystery remains behind one of the largest mortality events ever after 82 whales wash up on Scotland
The publication of research by the Hebridean Whale and Dolphin Trust comes hot on the heels of an "unprecedented" number of whale deaths in the trust's area of study.
In under a month, 81 mostly Cuvier's beaked whales washed up on beaches and coastlines from Orkney to Kintyre in various stages of decomposition.
More incidents were also reported on Northern Ireland as well as the west coast of Ireland but since then there has only been one more stranding on Shetland.
The Scottish Marine Animals Stranding Scheme (SMASS) usually records fewer than three deaths of the species a year and has been shocked by what could be the "largest mortality event" for this type of species ever recorded.
The cause of the 81 deaths since August 9 is a mystery because the vast majority of the washed-up whales have so far been too decayed for necropsies to positively identify the cause of death but a number of hypotheses have been put forward.
Cuvier's beaked whales are some of the deepest-diving mammals on the planet reaching more than a mile deep and rely on echolocation or biological sonar to navigate the pitch-black depths of the Atlantic sea.
As a result, they are highly susceptible to loud underwater sounds such as sonar, which some marine biologists worry could be causing them to surface too quickly in distress.
It is suspected this could lead to them suffering from decompression sickness – a condition that can also prove fatal to human divers.
In addition to Cuvier's beaked whales, scientists believe they have identified a number of recent carcasses as northern bottlenose whales.
Other potential factors under consideration to explain the remarkable amount of fatalities include pollution and disease.
Nick Davidson, stranding coordinator for the SMASS said: "We are still collecting data and samples and we may never be able to say what caused this.
"We can look at genetics, viruses, toxicology try to track the movements of the whale from the carcass but it will be very difficult however we will do our best with what we have."
Speaking at the time of the strandings Mr Davison said: "Our average stranding numbers for these animals is around two and a half per year. So the number we've had over the past month or so is pretty much unprecedented."