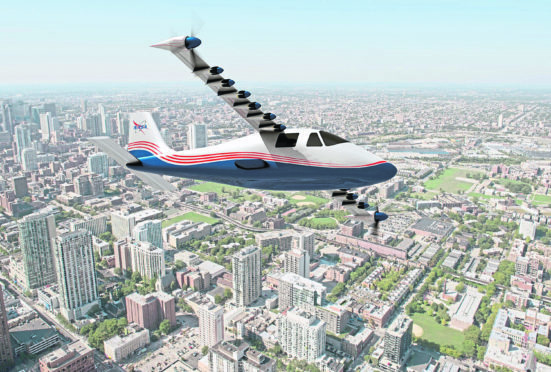 Scottish regional airline Loganair could be heading for a global aviation first with the introduction of electric-powered planes on its island hopping passenger services in Orkney.
The company's managing director Jonathan Hinkles said it hoped to bring the aircraft into service on the routes, which include the world's shortest commercial flight, by 2021.
Loganair is working with experts at Bedfordshire-based Cranfield Aerospace Solutions on the project, which Mr Hinkles said could see it be the first to introduce electric planes.
---
>> Keep up to date with the latest news with The P&J newsletter
---
He added that rather than developing a new model from scratch, they are looking to modify the eight-seater Britten Norman Islander aircraft currently used on the routes.
"Orkney is a fantastic place to start this kind of development because the islands are well known for the leading role they have taken in renewable energy and embracing new developments in the sector," Mr Hinkles said.
"It might end up being the first in the world. I'm not aware of any companies with similar plans at the moment, although there may be someone working out there that could do it before us."
Mr Hinkles added that the idea was being "incredibly strongly supported" by Orkney Islands Council, on whose behalf Paisley-based Loganair has operated the inter-islands service since 1967.
The service flies between six small airports to the north of the Orkney mainland, including Stronsay, Sanday, North Ronaldsay and Eday. It also includes the 1.7mile hop between Westray and Papa Westray, which holds the Guinness World Record as the shortest scheduled passenger flight, lasting between 53 seconds and a minute-and-a-half, depending on wind speeds.
Electric aircraft come with environmental and cost benefits, particularly associated with the elimination of consumption of fossil fuels and emissions. But it is also believed to be safer due to decreased chance of mechanical failure and less risk of explosion or fire in the event of a collision. The craft are also less noisy.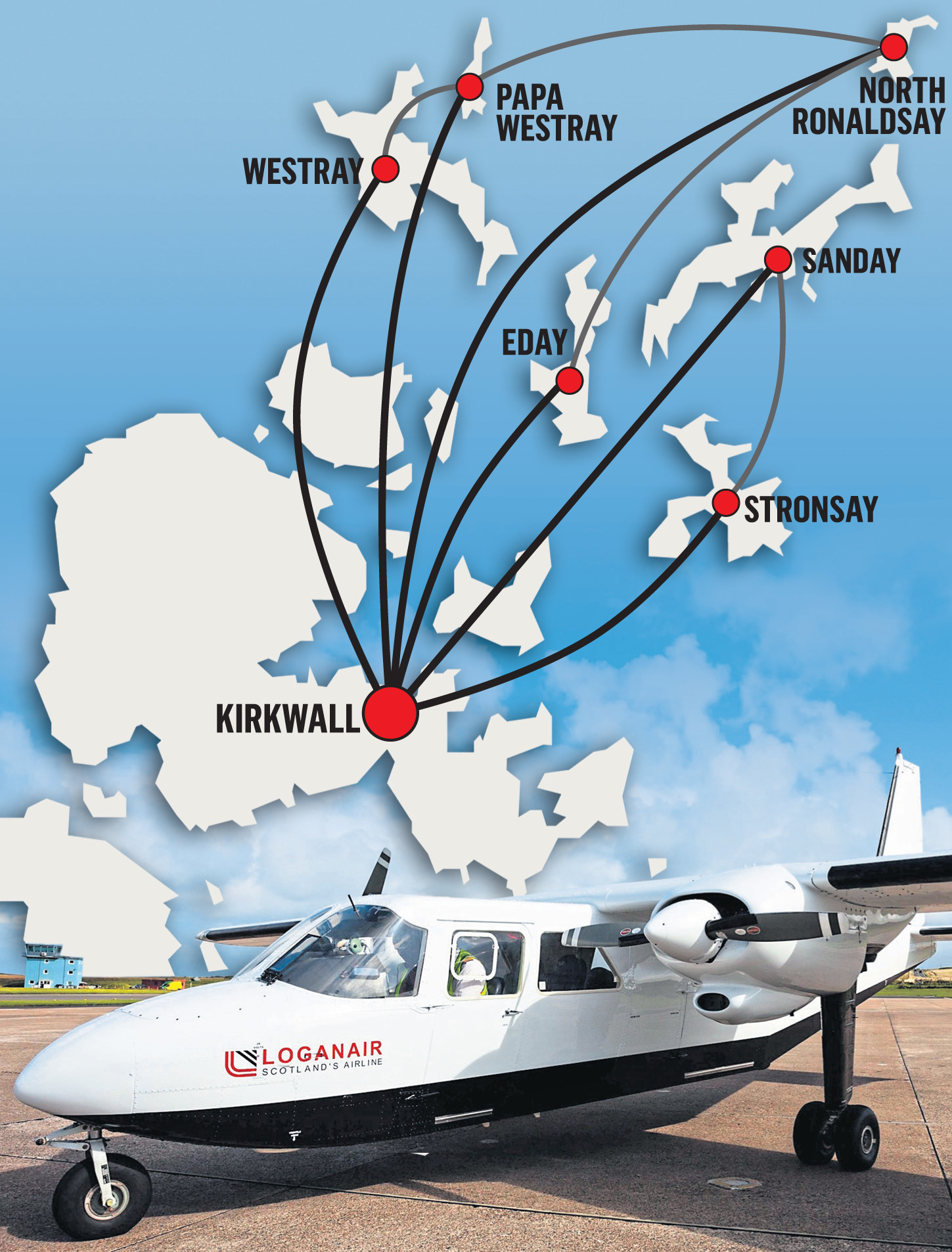 As with on-road vehicles, the problem is range – the best range of both being about 100-250 miles.
Last week Loganair, which employs 700 people was named, Airline of the Year by the European Regional Airline Association.
The company recently announced a new interline agreement with international aviation giant Emirates Airways, offering passengers access to its list of world-wide destinations. Similar tie-ups with Qatar Airways and Aer Lingus are expected to be announced shortly.
It is also preparing to start operating its own Embraer jest on a number of its regional routes.
Taking to the skies
Although the first manned flight in an electric aircraft happened 45 years ago, the race to introduce the technology on commercial services took off in earnest last year – with reduced costs and environmental impact the ultimate goal.
It is carrying the industry to the brink of what has been described as its greatest revolution since the invention of the jet engine 1937.
Among the main contenders at the moment are three leading names from the European industry, which have joined forces, and Britain's biggest budget airline, working with a new US firm.
California-based startup Wright Electric, which has teamed up with easyJet, has predicted passengers could be flying on battery-powered planes between London and Amsterdam in less than a decade. The two companies are aiming to develop a completely new all-electric jet by 2027. Carrying around 150 passengers, it would initially be introduced on "ultra-short-haul" routes of just over 330 miles.
A year ago, Rolls-Royce, plane maker Airbus and the eAircraft division of Siemens announced a multi-million pound collaboration to adapt a British Aerospace 146 commuter jet to carry two tons of batteries to test the technology.
A key goal of the research is finding ways to use electricity during take-off, which would significantly reduce fuel consumption and noise, as aircraft use twice the power then than when they are cruising. The developers have said the optimum range for the converted aircraft would be around 500 nautical miles.
Zunum Aero, backed by Boeing and JetBlue, has been working since 2013 on a family of 10-50-seat hybrid electric regional aircraft. Last October, Zunum launched the development of a six-to12-seat hybrid aircraft. Aiming to fly in 2020, and be delivered by 2022, it has been estimated it will lower operating costs by 40-80%.
In March this year Israel Aerospace Industries also revealed it plans to develop a short-haul electric airliner.
All electric aircraft to date have ben powered by electric motors driving thrust-generating propellers or lift-generating rotors. The first commercially available, non-certified production electric aircraft, the Alisport Silent Club self-launching glider plane, flew in 1997.
The European Commission (EC) has financed a number of low technology readiness level (TRL) projects for innovative electric or hybrid propulsion aircraft.
The introduction of electric technology is seen as vital in helping the airline industry reduce carbon emissions. Air travel currently accounts for 2% of global emissions, but with traffic doubling every 15 years, the figure is increasing by 4.5-6% each year, according to the EU's Clean Sky research partnership.