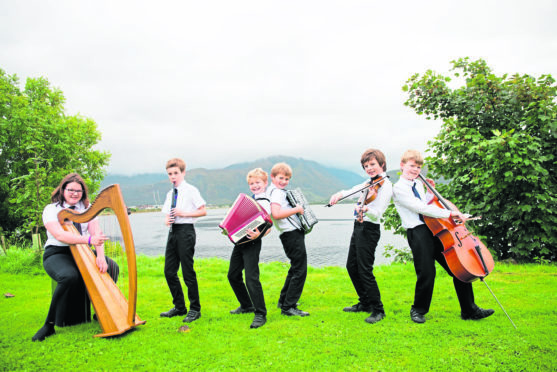 The number of men taking part in solo singing competitions is at an all-time low, and steps are being taken by the organisers of the Royal National Mod to increase them.
An Comunn Gàidhealach, who run the annual culture and arts event, said the number of young boys taking part in competitions is quite healthy – but by the time they get into adult competitions, particularly in the Traditional medals, there is a concern that men are just not taking part.
There are only two men entered into the Traditional medal, one of the top prizes at the Royal National Mod, being held in Dunoon, this week. In the equivalent women's competition there are 14 entered.
Speaking through a translator, Allan Campbell, president of An Comunn Gàidhealach, said: "The competitors are not professionals and although we encourage people to take part, we cannot make them come to the national Mod, and therefore the numbers go up and down.
"The traditional competition might put some people off, because if they make a mistake and they make it on television or in front of a big crowd it is a very different matter from making a mistake at a local mod.
"We are very interested in making sure people feel encouraged to take part in the traditional medals."
"People have lots of excuses not to take part. There is a member of staff with the media here this week who has had to learn 23 songs for this mod, with all the competitions and so on that he is taking part in. That is what you call hard work. The Mod is like a lot of other things, you have to work hard at it to take part."
John Morrison, chief executive of An Comunn Gàidhealach, said: "Competition entries across the board at this year's Royal National Mod are healthy.
"This year's Traditional Medal competition has a total of 16 entries; 14 in the women's category and two in the men's, after one participant unfortunately had to drop out at the last minute due to unforeseen circumstances.
"With the Traditional Medal being one of the most prestigious of the week, we are always keen to see strong numbers taking part, so we are open to looking into new ways that we can encourage and support people, and in particular men, to take part, be it through working closely with younger age groups or choirs."
The winner of the An Comunn Gaidhealach Silver Medal has high hopes in the adult competitions in years to come.
14-year-old Finlay MacLennan from Lentran near Inverness said his ambition was to go "all the way" with the Royal National Mod – including winning the Traditional Medal in the future.
Tutored by Margaret Stewart, he has been practising very hard for all the competitions.
Mum, Gillian, said: "I am delighted. This is his only competition at this year's Mod, so we are really pleased that he has won.
Finlay said: "It feels amazing to win. I want to go all the way and win the men's traditional medal in the future. "
An Inverness youngster took gold in the An Comunn Gaidhealach Silver Medal competition at the Royal National Mod.
Inverness Royal Academy pupil, Anna Nicleoid, 13, said she was "very, very happy", and her win was helped by her dad, Angus, and grannie Cathryn NicLeoid.
Anna said: "I have practised over and over again, all over the house and everywhere I could.
"I sang Tha Caolas eadar mi is Iain, and I enjoyed learning it – and learning about the song."
Grannie Cathryn said: "I think it is really important to be able to understand the words, as well as learn the words. To get the meaning of the song is the true spirit of the song – and if you get that you are more than half way there."