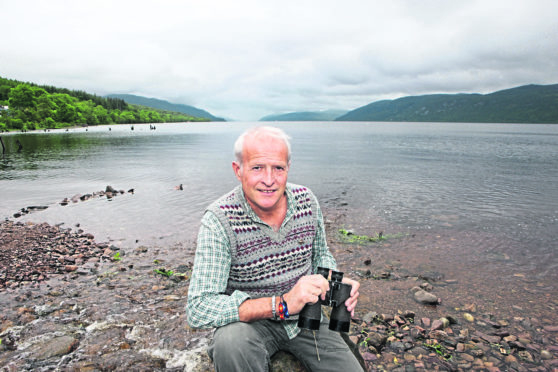 For more than 25 years, he has assiduously watched Loch Ness for a sighting of the monster – setting a world record for the longest Nessie vigil in the process.
But now Steve Feltham has gone from loch star to rock star – having been catapulted to film fame by Oscar winner Ridley Scott's company.
And what is more – a full movie on his life is being planned.
VIDEO: Search for Nessie as scientists conduct water DNA sampling
Among those who have called on Mr Feltham over the years have been Eric Idle and the late Robin Williams, the Chinese State Circus – dropping by for a photo shoot – and Billy Connolly, who invited him to be a guide for half a dozen of his A-list chums for a day.
Now stardom beckons for amiable Mr Feltham – through Gladiator, Blade Runner and Alien director Ridley Scott's company.
Mr Feltham, 55, said the chance to be Holywood's next Ness thing came "as a bit of a shock."
But film director Alexander Farrell, who is part of RSA – the production company which Ridley Scott co-created for commercials – stumbled on Mr Feltham's remarkable story browsing the internet.
He immediately saw him as an "Indiana Jones"-type character who was "perfect" for a seven minute commercial he was making for two tech companies.
This week Mr Feltham has been filmed climbing rock faces, cycling down mountains in a storm and scaling peaks.
"I was interested in a story that was unique and in Steve Feltham I've found it," said Mr Farrell, 30, whose photographic work has appeared in such museums as the Guggenheim in New York and the Natural History museum, London.
"I'm going to spend next year working on writing a film about Steve Feltham.
"He has more tenacity and passion than all of us put together. I have fallen in love with Steve Feltham and this is just the beginning."
Mr Feltham stressed he was not giving up "the day job" of searching for Nessie despite the lure of movie stardom.
---
>> Keep up to date with the latest news with The P&J newsletter
---
"I said all I wanted for doing this was an old wooden rowing boat and a walk on part as an extra in his next film. Little did I realise I may have a bigger part in a future film as its subject! This is the next best thing to seeing Nessie.
"But I am not quitting Nessie hunting any time soon to embark on a film career. I will be remaining here at least until we have this mystery solved."
It was as a seven-year-old that Mr Feltham first visited Loch Ness – and that trip sparked his lifelong obsession.
In 1991 Mr Feltham knew he had to dedicate more time to his quest. He left his job fitting security cameras, his home and steady girlfriend in Dorset to move to the banks of Loch Ness.