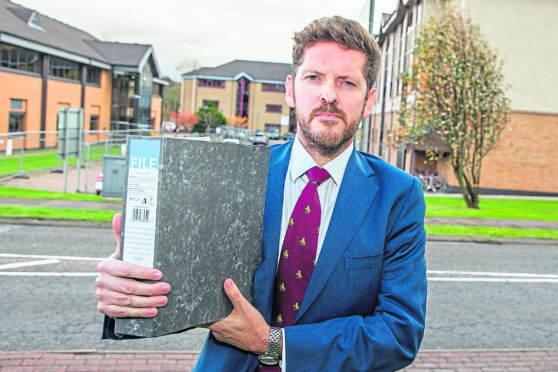 As many as 1,000 people could have been affected by the NHS Highland bullying scandal, one of the whistleblowing doctors predicted yesterday.
Dr Iain Kennedy revealed the figure as representatives of the #MeTooNHSBullying group and union members held a press conference in Inverness.
Dr Kennedy said: "We think that the 100 is the tip of a very large iceberg. I would personally not be surprised if there is 1,000, but certainly, we expect hundreds. We are talking about a 10-year period of severe bullying and there are 10,000 people who work for this organisation."
The group will meet NHS Scotland chief executive Paul Gray after he said he wanted to hear the concerns of those who have experienced bullying in the organisation.
Scottish Government accused of 'brushing off' NHS Highland bullying
An informal meeting with senior medical managers at NHS Highland is to take place next Tuesday – but the group emphasising it was just a "gesture of goodwill" and has made clear any offer of an internal review would not be acceptable.
Dr Alistair Todd, a consultant radiologist and ex NHS Highland employee, sat on the panel yesterday.
He said: "We need an independent inquiry. It has to be independent so it answers to the public. It is performed by somebody who is independent of the NHS so the people who are victims feel happy enough to step forward and make their story."
Last night NHS Highland blamed the Scottish Government for stalling with external advice and support.
In a statement issued on behalf of NHS Highland's board members, the health board said: "For the sake of all of our staff and the people we serve we feel this cannot continue this way. Our offer to meet the four clinicians remains open and we hope others will speak up and we urge that to happen as a matter of urgency.
---
>> Keep up to date with the latest news with The P&J newsletter
---
"The board has already welcomed external and independent input but regrettably this continues to stall due to matters beyond the control of the board."
More than 100 people come forward after NHS Highland 'bullying' claims
NHS Highland chairman David Alston met Mr Gray earlier this month where it was agreed external, independent support between NHS Scotland and NHS Highland would be delivered in a bid to resolve the crisis.
A Scottish Government spokeswoman said: "The welfare of NHS staff is paramount, and any claims of bullying in the workplace must be treated with the utmost seriousness.
"We are in discussions with NHS Highland over the scope of support that will be offered."
Cases relating to severe anxiety disorders, depressive illnesses and suicidal ideas have been highlighted to the group with Dr Kennedy adding: "We have been surprised ourselves at the gravity of the cases, much, much worse even than we anticipated.
"I spoke to a gentleman yesterday in a very senior clinical position who told me that he developed a psychiatric injury from the bullying he experienced in NHS Highland and was admitted to a psychiatric hospital for a month as a direct consequence of the bullying, and there are more stories like that."
The group continue to reiterate that any review must be undertaken by an independent representative away from the board of NHS Highland.
The four Highland clinicians who spoke out are Eileen Anderson, consultant radiologist at Raigmore Hospital in Inverness; Lorien Cameron-Ross, out of hours GP at Raigmore; Jonathan Ball, a GP at Nairn Medical Practice; and Dr Kennedy, executive partner at Riverside, Foyers and Cromarty medical practices.
---
Gavin Smith, GMB's NHS lead representative, said: "The main reason I think more people are coming forward is that they see this is being done outwith NHS Highland.
"People don't have confidence that a situation will be dealt with, so many people just don't bother trying and now there is an opportunity to do that in a way that doesn't involve NHS Highland controlling the process and people have chosen to come forward and there will be more people who will come forward as well.
"There are a number of very serious cases amongst them. The thing that is consistent with them all is NHS Highland has tried to minimise the problem, they have tried to manage the problem, and often people raising the issues have been put down the route of capability or performance management.
"The end result is that a lot of people end up second best one way or another."
Mr Smith highlighted serious concerns about a conflict of interest for the employee director working on behalf of the NHS Highland board.
He added: "All of the statements that have come out on the back of the bullying issue have been with the employee director undermining calls for an external enquiry and trying to minimise the extent of the problem.
"We think it is a complete conflict of interest that the employee director coordinates trade unions and has a seat on the board.
"Any of the statements that have come out have been supporting the board rather than trying to sort the problem for staff."