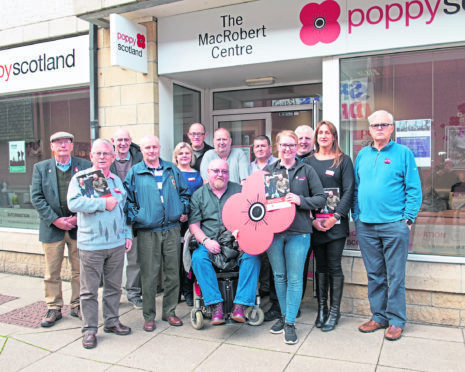 A north welfare centre has supported thousands of serving and ex-military in its first five years, a report published yesterday revealed.
More than 3,000 people from the Army, Navy and Royal Air Force have made contact with the PoppyScotland centre in Inverness, the only one in Scotland above the central belt, while more than 1,000 people have accessed it for one-to -one support.
Scotland's armed forces charity  published the findings of an independent impact study which evaluated the first five years of the Inverness Welfare Centre.
Financial assistance and support with employment, mental health, housing and benefits were among the most common areas that members of the Armed Forces community living in the north of Scotland have benefited from.
Centre manager Nina Semple said: "We pride ourselves on taking an evidence-led approach and evaluating outcomes.
"This report underlines the impact we see our services having every day.
"While these headline statistics represents a ringing endorsement of our approach, what is most important to us is the life-changing difference our work has on the lives of the individuals we help."
Of the 3,037 enquiries, more than 1,000 individuals directly benefitted from Poppyscotland's welfare offering, with 390 receiving specialist one-to-one support from staff at the centre.
Two thirds of inquiries came from those aged 35 to 59 and support was provided to members of the Armed Forces community from the age of 18 to 80 plus.
Support was provided to serving and former members of the Army, Royal Navy and Royal Air Forces.
The Army represented the largest group of beneficiaries at 76%.
Over the course of the first five years, Poppyscotland Inverness has worked with more than 20 different partner organisations including Highland Council, Job Centre Plus and NHS Highland.
The announcement coincided with the launch of this year's Poppy Appeal.
Ms Semple added: "This year's Scottish Poppy Appeal will be especially poignant given the forthcoming centenary and whilst we must never forget, the Armed Forces community can be sure that Poppyscotland will always be there supporting them.
"The public can also be assured that their generous donations have had a massive impact. We want to build on this success in the years ahead, but we can only do this through the continued support of the public, so I would urge everyone to dig deep for the 2018 Appeal."