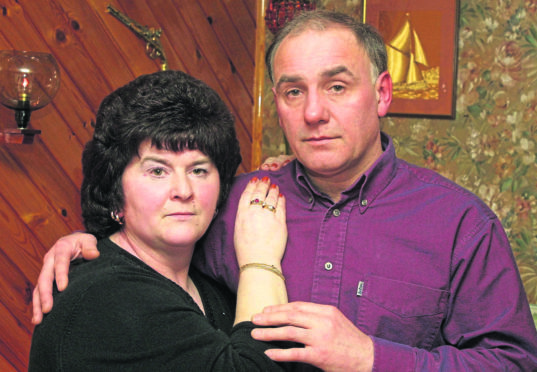 The grief-stricken family of a 24-year-old whose death at Wick Harbour 21 years ago remains "unexplained" has accused police chiefs of "passing the buck" over their complaints.
The body of electrician Kevin Macleod was recovered from the water on February 9, 1997.
He had suffered serious internal injuries and his family believe he was murdered.
Parents Hugh and June have campaigned for years "seeking justice" for their son.
Officers to approach new witnesses linked to mysterious death of Kevin Macleod
It was revealed in an internal investigation a decade after the tragedy that a procurator fiscal had instructed legacy force Northern Constabulary to investigate the death as potentially a murder inquiry at the time, but it was not carried through.
The family have made numerous complaints over the years about the handling of the case, and had sought in particular from the Scottish Police Authority to explain why former Chief Constable Phil Gormley did not order officers to investigate why they failed to act on the fiscal's instruction.
The SPA has now replied – following a recommendation from the Police Investigations Review Authority – stating Mr Gormley had responded and said he had "no recollection" of the family's request being brought to his attention.
Police probing Kevin Macleod death to interview new witnesses
He further told the SPA he had instructed two senior officers to review the case and examine the complaints, adding: "Common sense dictates that would include any issues surrounding instructions from the Procurator Fiscal."
Last night, Kevin's family was "angry and betrayed" by the response, claiming they had continually asked the former chief constable to investigate why the fiscal's instruction was not followed.
Mr and Mrs Macleod said: "It appears in his response that Mr Gormley has now passed the buck onto his then head of major crime."
They add that no senior officer, including two chief constables, "has or wants to investigate this issue" and they again felt let down by the system, still not knowning why the instruction was not followed.
---
>> Keep up to date with the latest news with The P&J newsletter
---
The couple said: "They have all buried their heads in the sand. It's crystal clear that those in power will stop at nothing to suppress the truth being known regarding the circumstances surrounding Kevin's death.
"What kind of society do we live in where your police force, who are supposedly there to protect and to serve, can blatantly ignore an instruction to investigate a death as murder?
"This dereliction of duty by police of failing to act on the fiscal's instruction to investigate Kevin's death as murder was gross criminal negligence of the worst kind and clearly was no simple failure but was we believe a conscious and deliberate act."
A Police Scotland spokesperson said: "Police Scotland is actively investigating new evidence provided by the family, however, at this time the death remains unexplained.
"Our sympathies remain with Kevin's family and we would again appeal for anyone with information to please come forward."
Still no answers
Last year Kevin's parents were given a personal apology from then Assistant Chief Constable Iain Livingstone over the handling of the case, but say they still have no answers, including how Kevin died.
A new witness came forward earlier this year stating he heard a commotion, saw two men struggle with Kevin before hearing a splash.
It was also alleged police officers were at the scene.
Police Scotland said they have been speaking to other witnesses as a result of new information.
Kevin Macleod's family welcome police complaints review after they claim the probe into his 'unexplained' death was flawed
The Scottish Government announced earlier this year than an independent review is to take place into how complaints against the police are handled.
It will be carried out by the former Lord Advocate, Dame Elish Angiolini.
Mr and Mrs Macleod said: "We trust the current review instructed by the Lord Advocate undertaken by the Criminal Allegations Against the Police Division  will be conducted in a comprehensive, transparent and credible manner and hopefully will  establish the truth and we pray that the present Lord Advocate will finally deliver the justice that our family and Kevin rightly deserve."