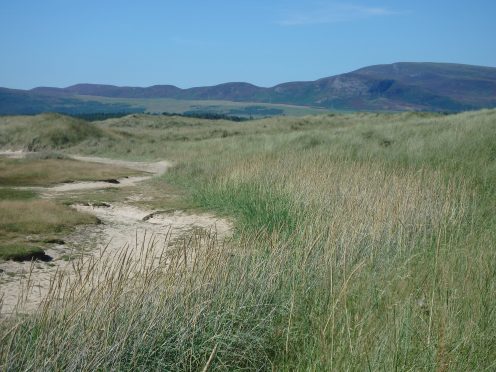 The first stage in the public inquiry into the controversial Coul Links golf course development takes place in Sutherland today.
It's almost three years since US businessman Todd Warnock and golf course developer Mike Keiser first made public their idea for an 18 hole championship course at Embo.
Since then more than 1,500 letters of objection have been lodged against their planning application, with around 400 in favour.
Petitions, accusations and recriminations have flown in either direction as the planning process unfolded, with drama as Highland councillors defied planners' advice and approved the proposal- twice.
In the end, an outstanding objection by Scottish Natural Heritage clinched the decision by Scottish Ministers to subject the application to a public inquiry.
They said the proposal "raises issues of national importance in relation to heritage issues and its compliance with Scottish Planning Policy which require further scrutiny at national level".
Today's pre-examination meeting (PEM) in the Carnegie Hall in Clashmore will not hear any evidence about the pros and cons of the development, concentrating instead on details of how the inquiry is to proceed.
The two Scottish Government-appointed reporters David Liddell and Timothy Brian will firm up details such as suitable dates and time frames for the inquiry, what information will be heard and who wants to give evidence at oral sessions.
Suggested start dates of February 25 and March 4 2019 will be discussed, with the inquiry expected to last several weeks. Its location is still to be decided, but must not be more than ten miles from the site in question.
Campaigners against development have formed a coalition to highlight the 'devastating environmental impact' of the golf course.
They include Buglife Scotland, Butterfly Conservation Scotland, Marine Conservation Society, National Trust for Scotland, Plantlife Scotland, RSPB Scotland and the Scottish Wildlife Trust.
They argue that the proposals would completely destroy more than 34 acres of internationally important, irreplaceable dune habitat and disrupt the natural dune processes and ecosystems.
Protest group Not Coul will also attend the PEM. They played a key role in having the planning decision deferred in June after bringing forward new evidence for Scottish Environmental Protection Agency (Sepa) to consider.
There has also been strong local support for the proposals which include the creation of 250 jobs and anticipate the need for visiting golfers to stay in the area overnight to be able to play not only Royal Dornoch, but the new Coul Links.
Today's meeting will be webcast on the Scottish Government's Planning and Environmental Appeals Divisions (DPEA) webcasting site.
Timeline
2015: Pre-application lodged with Highland Council for 18-hole championships links golf course and practice area, covering 805 acres.
August 2016: Environmental campaign group Not Coul launched to argue that the dune system provides a vital habitat for seabirds and threatened species such as the Fonseca fly.
September 2017: Full planning application lodged for 18 hole golf course, clubhouse, pro-shop, caddy hut, workshop, administration building, information booth and formation of new private access.
By now the application had attracted more than 2,000 letters of representation. 1594 were objections, with 349 in support, and 64 not expressing a view.
Several petitions had also been launched both for and against the application.
March 2018: Key objector the Scottish Environmental Protection Agency (Sepa) withdrew their concerns.
June 5, 2018: The application goes before the North Planning Applications Committee with a recommendation to refuse, because Scottish Natural Heritage (SNH) had objected to part of the application.
Councillors overturn planners' advice and unanimously recommend Coul Links for approval.
But the decision is deferred at the 11th hour after environmental campaigners unveil new evidence requiring scrutiny by Sepa.
June 20, 2018: Sepa maintains its stance of no objection.  SNH maintains an objection to one part of the application. Councillors once again recommend the development for approval.
August 24, 2018: Scottish ministers call in Coul Links  because 'the proposal raises issues of national importance in relation to heritage issues and its compliance with Scottish Planning Policy which require further scrutiny at national level'
September 2018: Scottish Government Reporters David Liddell and Timothy P W Brian appointed.
October 2018: Pre-examination hearing to determine inquiry procedure held in Clashmore.
Weeks February 25 and March 4, 2019 are proposed for the inquiry. Location still to be determined.