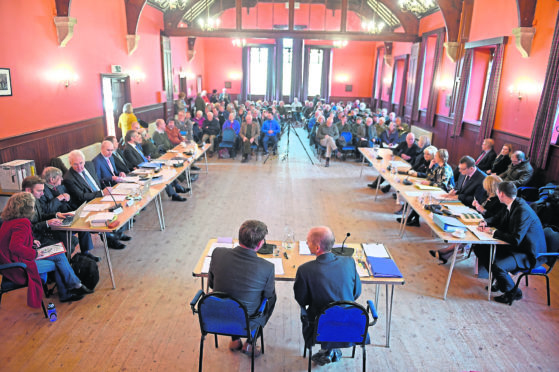 A packed Carnegie Hall in Clashmore in the Highlands played witness to the first step in the public inquiry into the controversial Coul Links golf development near Embo, Sutherland
Around 100 members of the public filled the hall, mostly local, from both sides of the argument.
The pre-examination meeting was called to discuss the arrangements and the procedures of the inquiry before it begins in February.
Scottish Government-appointed reporters Timothy Brian and David Liddell presided.
Representing Coul Links Ltd on behalf of  developer Us businessman Todd Warnock was Ailsa Wilson QC.
For Highland Council were solicitor Karen Lyons, planners Gillian Pearson and Dafydd Jones and councillors Maxine Smith, Richard Gale and Jim McGillivray.
Mr McGillivray is chairman of Embo Trust and a frequent advocate of the benefits of the golf course to the local economy.
Highland Council approved the proposals for the 18-hole championship golf course, but the development was called in by Scottish ministers.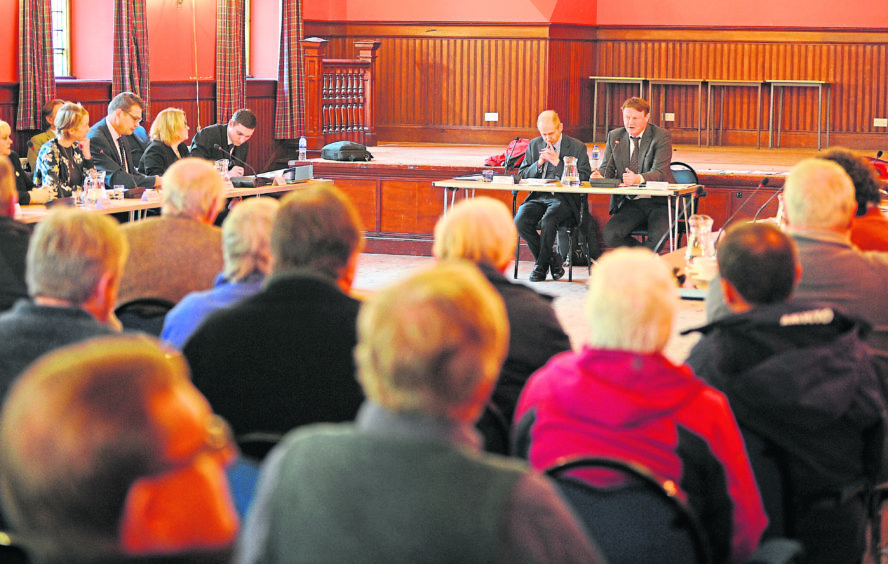 They said it 'raises issues of national importance in relation to heritage issues and its compliance with Scottish Planning Policy which require further scrutiny at national level'.
On the protestors' side was John Campbell QC representing Not Coul, headed by ecologist Dr Tom Dargie.
The coastal dune system has multiple designations, including that of RAMSAR, a wetland site of international importance, a fact Mr Campbell QC said he is hoping to use as a 'legal showstopper'.
Scottish Natural Heritage (SNH) was also at the meeting, represented by Peter Ferguson of Harper Macleod.
SNH has dropped all its objections to the development, bar one concerning the impact on the dunes.
Save Coul Links, a coalition of environmental organisations including Butterfly Conservation Scotland, Buglife, Marine Conservation Society, National Trust for Scotland, Plantlife, RSPB and Scottish Wildlife Trust (SWT) were at the meeting, represented by Neil Collar of Brodies solicitors.
John Mackay of the Scottish Rights of Way and Access Society was present, also on behalf of The Ramblers, objecting to the development.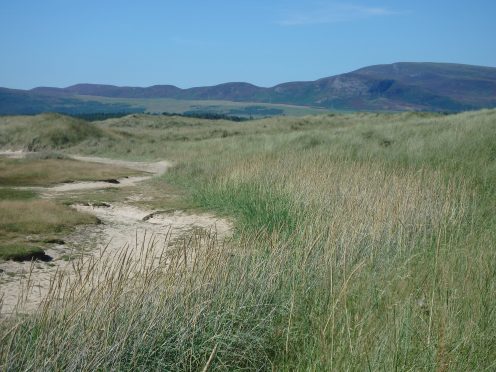 After the meeting, Todd Warnock said: "I have complete faith in the process. It's time we have a fair, transparent and accurate portrayal of this exceptional project."
Bruce Wilson, SWT's Living Landscapes policy officer, said: "We're confident that we'll be able to present a strong case on each of the natural heritage features that the Reporters have requested for further information."
The start of the inquiry was set for Tuesday February 26, 2019. It's expected to last for four weeks.
The venue has yet to be decided, with the Reporters looking at various venues in Embo and Dornoch, keeping the Carnegie Hall also in the frame.