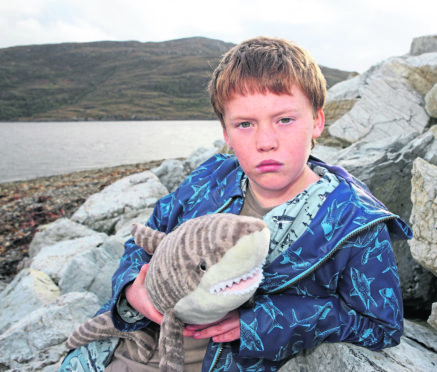 A Scottish schoolboy sacked by a conservation body after a row over Bear Grylls has been appointed as an ambassador by another top marine charity.
Two of the biggest names in wildlife television were at the centre of an extraordinary row over 11-year-old Finlay Pringle from Ullapool in Wester Ross.
Finlay criticised celebrity survival expert Grylls for keeping sharks in tanks at his £20 million adventure park, but this led to him losing his 'Shark Ambassador' role for being too outspoken.
He had told Grylls – who also holds the role of Chief Scout: 'You suck' and 'Worst Chief Scout Ever.'
But BBC Springwatch presenter Chris Packham leapt to the defence of the schoolboy, praising him for standing up for his beliefs.
Packham said: "Finlay's courage to stand up for what he believes in is a joy in an age where most people are scared to say boo to a goose.
"Finlay is the best ambassador for sharks I've ever met. This group of fish are being mercilessly killed in their millions and as keystone predators this will have far reaching and profound impacts on the ocean ecosystem."
Earlier this year, Finlay was delighted when the international Sharks4Kids charity chose him as one of the UK's junior Shark Ambassadors in recognition of his marine conservation efforts.
But when he went online to express his views about The Bear Grylls Adventure 'dive experience' at Birmingham NEC, his comments on Facebook led to Sharks4Kids stripping him of the role.
Now the charity Sea Shepherd Conservation Society has made Finlay their shark ambassador.
Finlay, 11, said: "I feel absolutely honoured. It is incredible to think that I will be representing his amazing organisation as their shark ambassador. I can't wait to get started."
Rob Read, Chief Operating Officer at Sea Shepherd UK, has presented Finlay with a certificate marking his new role, saying he was a great example to others.
He said: "Sea Shepherd is proud to have Finn as an ambassador for sharks and we will be supporting his campaign to stop the captive exploitation for profit of sharks by Bear Grylls, Merlin Entertainment and any other similar facilities in the UK."
A spokesman for Merlin Entertainments, which runs the Grylls' attraction, said: "There will be a dedicated team of aquarists to care for the creatures day to day."
Grylls has said: "I so admire Finlay. We need young people who challenge the status quo and force us to analyse what we do."
A Sharks4Kids spokesman said: "We support Finlay in his passion to speak up for what he believes. But with our status, we cannot lobby, petition or participate in activism.
"His involvement was not ended because he spoke out against Bear Grylls. It was ended because he made statements on behalf of the organisation which are not legal for our status."