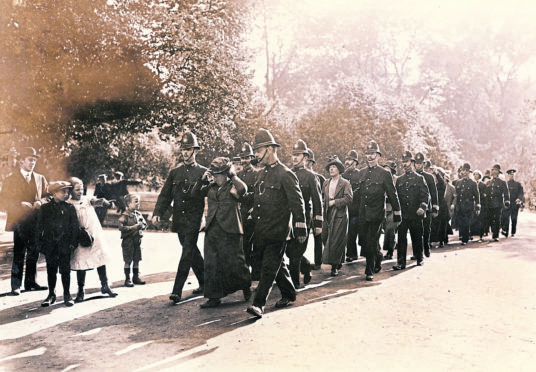 An Inverness suffragette who led the way in the women's rights movement is being recognised by UK parliament as they mark the 100th anniversary of the first women getting the vote.
Marion Wallace Dunlop was an active member of the Women's Social and Political Union (WSPU) the early 1900s and was key in helping to secure the vote for women.
Within the space of a year, she was arrested three times for separate offences including obstruction and for leading a protest march; however it was her final arrest in June 1909 for stencilling a passage from the Bill of Rights on a wall of the House of Commons that sparked the first suffragette hunger strike.
Ms Wallace Dunlop, originally from Leys Castle, managed 91 hours of fasting at Holloway Prison before being released on the grounds of ill health.
In 1928, she was a pallbearer at the funeral of Emmeline Pankhurst and in the years that followed, took care of Mrs Pankhurst's adopted daughter, Mary Joseph Lennon.
Mrs Pankhurst was also arrested on numerous occasions and during one 18 month period, endured 10 hunger strikes in protest.
---
>> Keep up to date with the latest news with The P&J newsletter
---
In 1913, in response to the wave of hunger strikes, the government passed what became known as the "Cat and Mouse" Act. Hunger striking prisoners were released until they grew strong again, and then re-arrested.
During the UK's Parliament week – which ends on Sunday – a host of events will be taking place to commemorate the efforts made by Ms Wallace Dunlop and women alike and mark this historic milestone as part of the government's Vote 100 programme.
Highlands & Islands Regional MSP Rhoda Grant said: "The original suffragettes and suffragists campaigned for the vote because they wanted change. To them, voting was about more than just the privilege of going to the polling booth; it was about seeing a tangible difference in the lives of women. They wanted equality and fairness, not just on the face of it but in how wives, mothers and female workers were treated by the law.
"Marion Wallace Dunlop who was born in Inverness was one such woman and in fact I am delighted to say I have tabled a motion in the Scottish Parliament today recognising her work for women's rights and also highlighting the fact that she is being showcases as part of Parliament Week in Westminster."