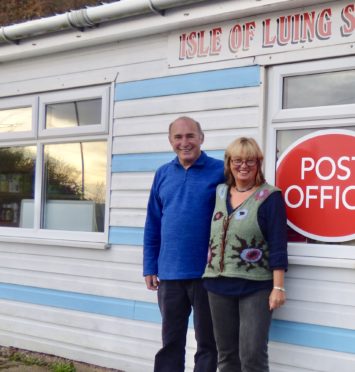 A couple from Luing have taken on the island's only shop and post office and saved it from closure.
The previous owner of the small Argyll island's lifeline had advertised it for sale and it was due to close this month.
If no-one had taken the business on, Luing's 163 residents would have been forced to take a ferry across the Cuan Sound to the nearest store in Balvicar for groceries.
The news that long-time Luing residents Birgit Whitmore and Norman Bissell are keeping this vital community asset going has been welcomed by Luing Community Council and the Isle of Luing Community Trust.
Situated near the Fladda houses at Cullipool, a community bus brings older islanders without cars to the shop on certain days from the village of Toberonochy, three miles away.
---
---
Birgit Whitmore ran the craft and wool shop Whitmore and Hamilton in George Street, Oban for 11 years and is an artist and the proprietor of The Island Kitchen on Luing. Norman Bissell is a well known writer, a former principal teacher of history and EIS Area Officer, and was vice chairman of the Isle of Luing Community Trust which built the award-winning Atlantic Islands Centre on Luing.
Mrs Whitmore said: "Many thanks to Gordon Robbie for all his hard work and great ideas which have built up Luing Stores and Post Office, extended its range of produce and goods and made it such an attractive place to visit. The people of Luing are very grateful for all he has done to achieve so much.
"We will continue to extend the range of local produce and arts on offer in the shop and aim to provide the best service possible to everyone who lives on Luing and to our many visitors. We will maintain and build on what has been achieved and are looking forward to doing so."
Mr Bissell said: "It's quite a learning curve for me but I'm enjoying meeting and welcoming folk from all over the island and visitors who drop in to the shop whom I wouldn't otherwise see when I'm writing on my computer. It's certainly a challenge but we're determined to make a success of this vital asset for the Luing community."
Luing Community Council Convenor Mike Barlow said: "It's great news that local residents Birgit and Norrie have taken over Luing Stores and Post Office. Our wee shop plays a big part in helping sustain our island community and we wish them all the best for the future."