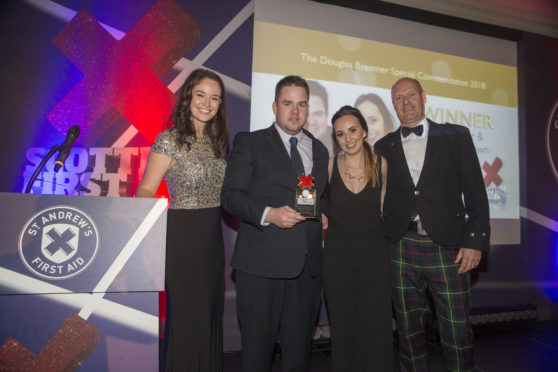 A young dad who saved his son's life after the infant stopped breathing has been recognised along with his wife for their outstanding efforts in bringing first aid to the residents of Mull.
Alex and Kayleigh Brown received the Douglas Bremner Special Commendation Award at the St Andrew's First Aid Scottish First Aid Awards.
Alec, 29, had been taught first aid after attending a training session delivered by St Andrew's First Aid in Oban in January.
Just a few weeks later, he had to put his skills into practice when his eight month old baby Ruaridh stopped breathing and turned blue whilst sitting in his high chair.
Thankfully, through Alec's recognition of the situation, swift actions and first aid training, he was able to save his son's life using the infant CPR skills he had learned.
---
>> Keep up to date with the latest news with The P&J newsletter
---
Following the incident, Kayleigh, 26, was determined that more people on the island should have the opportunity to learn first aid given their remote location.
She contacted St Andrew's First Aid to deliver a series of demonstrations and then rallied her community.
Over 100 people attended the sessions, which also raised more than £1,300 for three charities. Alec said: "When Ruaridh stopped breathing, I went into autopilot and remembered what I had been taught. I checked to see if he was choking and then checked his airway before beginning CPR.
"It felt like half an hour before be started breathing again but I suspect it was only a minute.
"I'm just so glad I made the effort to go to the demonstration. The ambulance arrived after 20 minutes but had I not known what to do, the ending could have been very different.
"I can't recommend strongly enough that people take the time to learn how to do even basic first aid. Many of the sessions are free and it could literally be the difference between life and death."
Kayleigh added: "We are delighted to have won this award. I can't talk enough about the importance of learning first aid and the fact you can do it for free means there should be no excuse not to.
"The thankfully positive outcome of our own experience was enough to spur me into action."
Stuart Callison, chief executive of St Andrew's First Aid, said: "The Browns are a credit to their family, their community and to us.
"Their recognition that first aid is a vital skill to have was so clearly shown when faced with their own distressing situation."