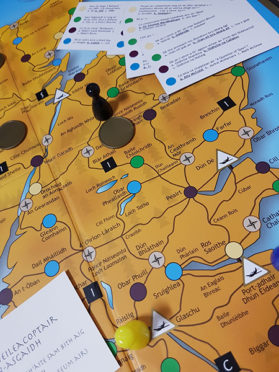 A Gaelic version of an old Scottish board game is being sold as an ideal Christmas present for families "to enjoy during the cold, dark nights".
The game, Ciste Ulaidh na h-Alba, or Scottish Quest, has been created by Gaelic educational resources organisation Stòrlann Nàiseanta na Gàidhlig.
This Gaelic version of the game was officially launched in 2015 by Deputy First Minister John Swinney, but at that time was only available to schools.
Most of the first 500 sets produced in that first run went into schools involved in Gaelic Medium Education.
Ciste or Scottish Quest — is a heritage game with questions about land and nature, history, culture and contemporary Scotland.
Stòrlann chief executive Donald Morrison is delighted the game is on sale in time for Christmas and believes it will be a great focus for family evenings during the winter.
"On a cold night, there's little that's better than gathering by the fireside with a board game. If you wish to have this family fun through Gaelic, 'Ciste' is the answer. Crack open the chest and join the fun on a Gaelic tour of Scotland."
He added it was a "highly versatile learning tool" and an "ideal and fun way to use Gaelic with the family at home".