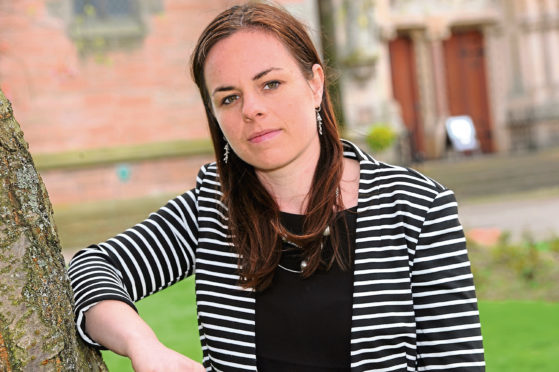 The first female MSP to make a plenary address in the Scottish Parliament chamber in Gaelic has warned the language's future will only be secured for the next generation if all speakers step up their efforts.
Kate Forbes MSP believes that more Gaelic speakers should be using the language "loudly and noticeably" in the public square.
Delivering the prestigious Oraid an t-Sabhail lecture last night (fri) at Scotland's national centre for Gaelic language, culture and the arts, Sabhal Mor Ostaig on the Isle of Skye, she follows in the footsteps of four serving Scottish First Ministers (Nicola Sturgeon, Alex Salmond, Jack McConnell and the late Donald Dewar).
Ms Forbes said: "Great progress has been made in the last few decades to secure the future of Gaelic, but we need to go further and faster.
"My generation of Gaelic speakers has benefited from hard-won initiatives like Gaelic Medium education, BBC Alba and Feisean nan Gaidheal.
"We must choose to fight for Gaelic's future with urgency and determination if the next generation are to hear it, learn it and use it as a language of everyday life. We don't have the luxury of apathy or patience.
"My speech is a rallying call to all Gaelic speakers to consider how they are playing a role in safeguarding Gaelic for the next generation.
"We need more workers generally using the language, particularly teaching it, and so I hope that this is an encouragement to keep fighting."
The MSP for Skye, Lochaber and Badenoch told delegates: "For Gaelic to prosper it needs to be the language of our hearts and we need to hear it in many situations and not just in school classrooms."