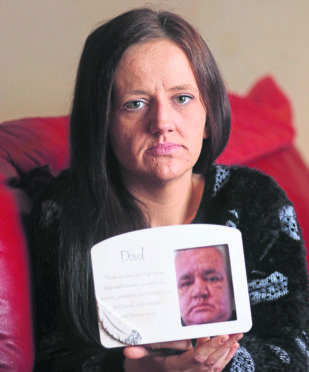 Bikers across the country are to help send off a fanatic Highland motorcyclist who has sadly died.
Jacqueline McCaffrey, who runs A Helping Hand charity, lost her dad last Thursday – and his final wish was that his funeral cortege to be flanked by motorbike outriders.
She said: "My father was a devoted biker all his life, the road was his life, he lived by the Brother's Code and always will.
"Unfortunately on November 29 we suddenly lost our father, who died with his family around him. We did our best to bring him back – but it just wasn't enough.
"My father cheated death a couple months before, so thankfully I managed to find out what he would like most at his send off.
"I'm asking all the brother and sister bikers to please help me make his last wish come true.
"My father wasn't happy unless he was riding for something and I asked him if he would want bikers at his funeral and I have never seen someone look so happy about this thought.
"I am asking each and every biker to join him for one last ride, I want anyone and everyone and I want loads.
"I want the sound of bikes loud enough for the heavens to hear."
She added: "The funeral will be on Thursday, December 13, with bikers meeting outside the Milnafua Hall in Alness at 12.30pm."
On social media, many people have said they want to support Jacqueline in her efforts for bikers at the funeral.
Shirley Anderson said: " I really hope you get your wish for your father as when my brother died he was a motorbike rider the motorbike guys from Fraserburgh followed my brothers coffin.
"We were a very proud family, that they did that for us. We still can't thank them enough."
While Scott Anderson from Lauder in the Scottish Borders said: "Sorry for your loss Jacqueline, Unfortunately I won't be able to escort your father on his final journey, but hope you get lots of bikes to help you.
"Hope you manage to fulfil his final wish, my thoughts are with you."