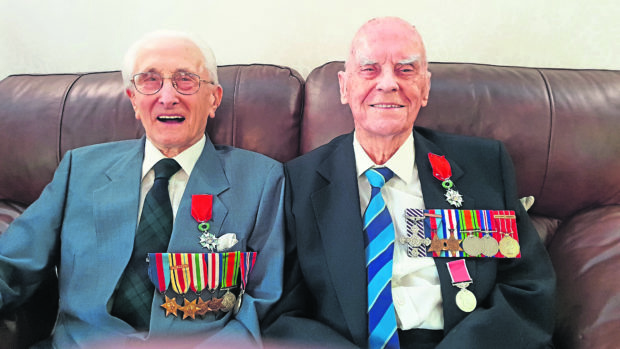 The Moderator of the General Assembly of the Church of Scotland is encouraging people to donate money to a Highland residential home instead of buying her presents for her 60th birthday – which is today.
Rt Rev Susan Brown said Oversteps Care Home in Dornoch celebrated the same landmark year last month and she would rather see funds used to create a sensory garden in the leafy grounds.
Oversteps is run by CrossReach, the operating arm of the Kirk's social care council.
She said installing water features, benches and different types of plants and flowers to stimulate the senses would be of great benefit to residents at the 24-room assisted living development.
One of them is Andrew MacLeod, 98, who was recently awarded the Legion d'Honneur, France's most prestigious military honour for the part he played in Normandy during the Second World War.
---
>> Keep up to date with the latest news with The P&J newsletter
---
He served with the Seaforth Highlanders, an infantry regiment of the British Army, as a stretcher bearer and attended to wounded soldiers in June 1944.
The Moderator, who has set up an online fundraiser page and hopes to raise at least £500 for the project, which is estimated to cost up to £15,000, said: "A month apart and Oversteps and I both reach 60.
"I am in denial but how about rubbing salt into the wound by supporting the funding of a sensory garden for the residential care home?
"Please consider it because it offers so many physical and emotional benefits for residents who deserve it."
Andrew Mackenzie, 95, an elder of Dornoch Cathedral and fellow Legion d'Honneur recipient, said he was delighted Mrs Brown was forsaking presents in aid of Oversteps.
He was the pilot of a Lancaster bomber which bombed German gun emplacements on the Normandy coast to clear the way for the landing parties on D Day – June 6, 1944.
Mr Mackenzie said: "I am not in the least bit surprised Susan is doing this because she is wonderful. It is a splendid idea because she is a splendid person."
Mrs Brown described the war heroes as two "lovely men" who regularly attended Dornoch Cathedral until recently.
"They are very much a part of both the church family and the community," she added.
"Andrew MacLeod even yet is a smart and dapper gentleman who loves singing and is just delighted when he has visitors.
"Andrew Mackenzie is still living in his own home in Dornoch and keeps in touch with family in Canada, the USA as well as in the UK via his tablet.
"He once played in the British Open as an amateur and is an elder in the Cathedral, playing a very full role in the life of the congregation.
"Both men have amazing pasts and are simply great to know."