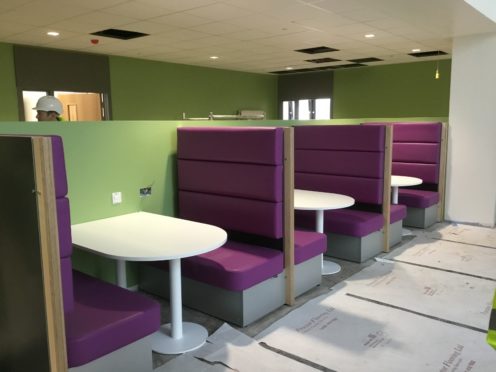 Oban's new high school building and surroundings is on schedule to be completed by February.
Pupils moved into the building in April, signalling the completion of phase one of the £36 million project.
Councillors at Argyll and Bute Council's Area Committee meeting for Oban Lorn and the Isles were given an update on phase two yesterday.
A report before the committee said: "The project has now entered phase two, which will continue through to February 2019. This phase will include the demolition of the old Oban High School buildings, the construction of enlarged car parking and bus drop-off, and external social areas."
Demolition works are progressing well, with more than half of the buildings now demolished. Installation works to replace the surface of the existing 3G pitch together with goal recesses are complete.
Councillor Roddy McCuish said: "I would like to say how much I welcome this paper. Phase two will be complete on schedule in February 2019 and I'm pleased to say will provide a car park with 183 spaces."
The school currently has 900 pupils, with the new building capable of taking 1,300, allowing for an increasing number of pupils in future years.