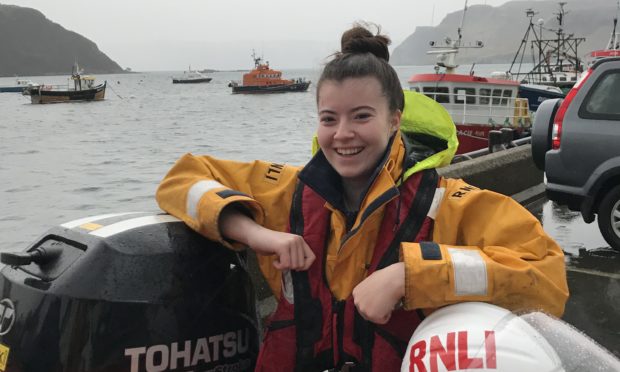 A Skye teenager is has taken on some extra responsibility this festive season – and one that could put her Christmas dinner in jeopardy.
Volunteer Chloe Urquhart, 17, is about to underatke her first December 25 with an active RNLI pager.
As part of working towards her Duke of Edinburgh award, the Portree High School pupil has spent the best part of the last year volunteering at the town's lifeboat station. But on turning 17 in October, she became a full volunteer.
Miss Urquhart said: "It has been in the family for years with my dad being a launching officer and my uncle being an ex-coxswain. My gran has helped around the station as a fundraiser for years, too.
"I have always had a big interest in the sea and boats so having a family involvement in the RNLI has really egged me on to join."
Miss Urquhart, from Portree, is yet to experience her first job; however, the head girl has had to ask for the permission and approval of her head teacher to ensure she can attend any jobs that may arise.
She added: "I am excited and a bit nervous.
"I have not been on an official job yet but I have been on some training exercises where I have been getting to grips with the boat and gear."
Peter, Miss Urquhart's father, is the deputy launch authority at Portree Lifeboat Station and will have to run his daughter to that first job when the time arises.
Mr Urquhart said: "It will no doubt be quite a nervous time and it will be up to the coxswain to decide if the job is suitable for a new member.
"Chloe is confident on the water and knows what's going on so she just needs to get into that team situation and fit in well."
RNLI volunteers are on call 365 days of the year and can be called out at any time. However, Miss Urquhart is quite happy to miss out on a Christmas feast if it means she gets her first taste of action aboard the lifeboat.
She added: "I would quite happily drop my Christmas dinner if it meant I could go on a shout and meant I could help in a proper emergency situation."
Miss Urquhart hopes to study medicine.
However, with the sea at the forefront of her mind, she has chosen Aberdeen and Dundee as her potential destinations, with both having volunteer lifeboat stations where her RNLI education can continue.