Almost 33,000 school staff days lost in north and north-east for mental health reasons

By
Tom Peterkin
January 3, 2019, 7:01 am
Updated: January 3, 2019, 12:05 pm
Almost 33,000 school staff days were lost in the north and north-east in 2017/18 as teachers struggled with mental health, new figures have revealed.
Highland Council recorded 11,781 days lost by staff for mental health reasons, the third highest total of any local authority in Scotland.
Only Glasgow, with 16,127 lost days, and Fife with 12,127 recorded a higher figure.
The stresses and strains affecting staff saw 7,961 days lost in Aberdeenshire during the same period and 4,474 days lost in Aberdeen, while Argyll and Bute saw 3,555 days lost and Shetland 2,903.
The Western Isles and Orkney experienced 886.7 and 931.7 days lost respectively. There were no figures for Moray.
---
>> Keep up to date with the latest news with The P&J newsletter
---
Figures, retrieved by the Liberal Democrats under Freedom of Information legislation, found that almost 395,330 school staff days had been lost over the last three years in 29 of Scotland's 32 local authorities.
Teaching staff absences have risen from 75,281 days in 2015/16 to 87,066 days in 2017/18 and support staff absences have risen from 43,307 days in 2015/16 to 58,300 over the same period.
Shetland Lib Dem MSP Tavish Scott said: "These figures show that since 2015/16, almost 400,000 staff days have been lost for mental health reasons. Year after year the number lost has risen.
"The pressure on classroom teachers is obvious.
"Teaching unions are worried by falling teacher morale, the top-down approach to education by central government and the impact of testing regimes on classrooms.
"This pressure has to be a factor in the growing number of absences caused by mental ill health.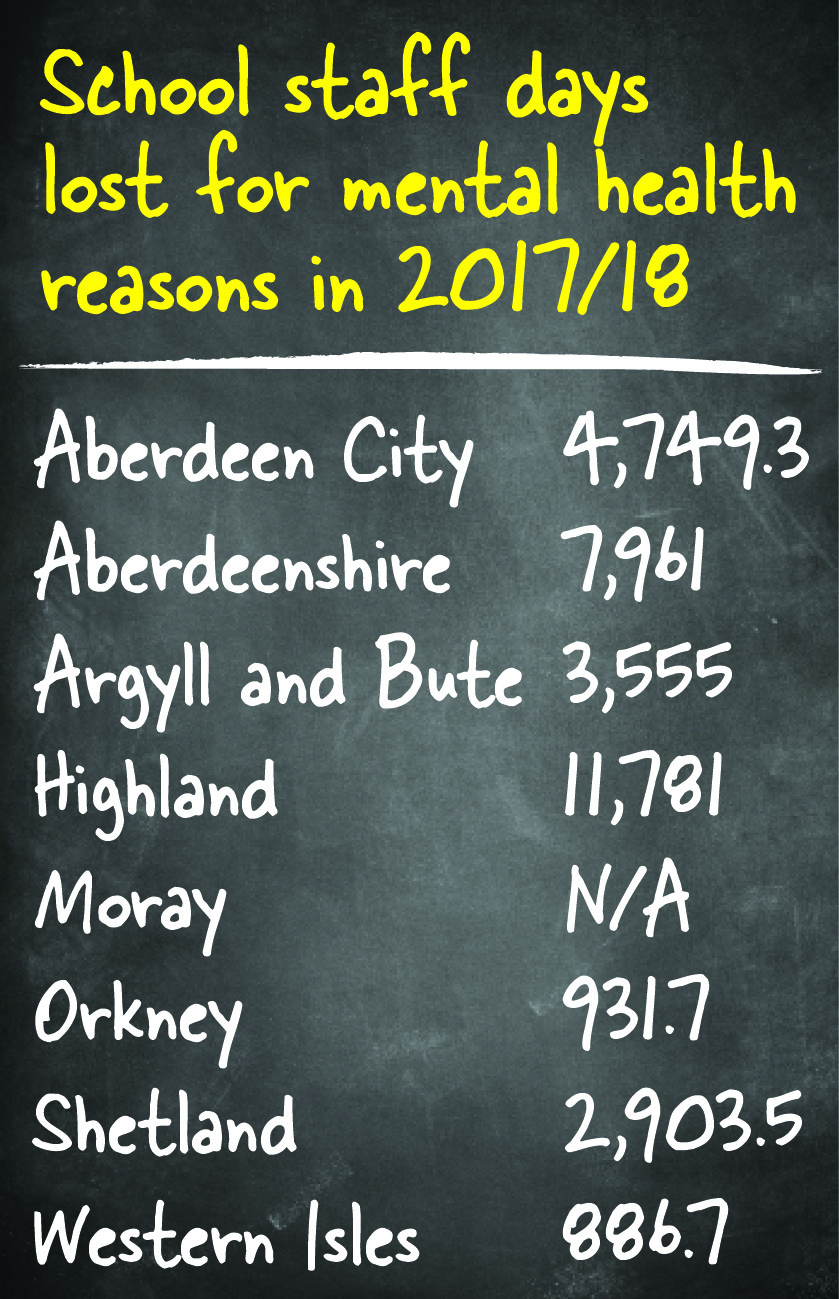 "In 2019, the Scottish Government must turn over a new leaf and work to reduce the pressure on Scotland's overworked school staff."
Dr James Vance, Interim Head of Education at Highland Council said: "I am saddened to see the rising national trend in school staff absence.
"With well over 2000 staff and with 203 schools spread over such a large distance, our absence figures are always going to be attributable to a wide range of factors.
"In seeking to address these we will continue to work with our school-based line managers so that they can also support staff to return to health and work and to work with our Occupational Health Provider to provide support for staff."
An Aberdeenshire Council spokesperson said: "There is a range of assistance available for teachers if they need support.
"Each school has a senior leadership team who can provide confidential guidance.
"All council employees including teachers can contact the employee assistance programme.
"It provides confidential one on one support through a counsellor and is tailored to ensure everyone is receiving the best and most appropriate assistance."
Councillor John Wheeler, Convener of the Aberdeen City Council Education Operational Delivery Committee, said: "We utilise a range of approaches to support the mental wellbeing of our school staff.
"This includes counselling services, stress risk assessment training for head teachers and a range of wellbeing initiatives.
"We are not complacent and always look to improve and review our approaches to help support our staff."
A Scottish Government spokesperson said: "It is important that all public sector workers providing frontline services are in the strongest position to deliver those services.
"Although it is for local authorities to ensure all of their staff, including teachers, have access to the necessary mental health and wellbeing support our 10 year Mental Health Strategy outlines a range of actions aimed at ensuring everyone in Scotland can get the right support when they need it most.
"We have also taken decisive action to reduce teacher workload and recruit additional teachers to avoid any additional burden on existing staff."
---