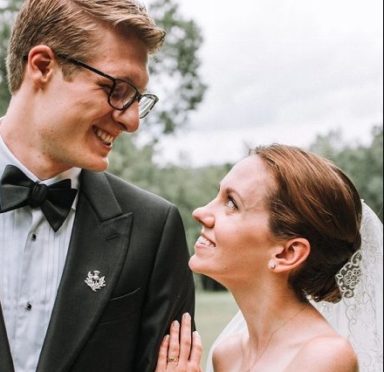 The northern town of Wick may seem like several worlds away from the Manhattan apartment owned by Jon Pfeil and Anna Gallagher.
But the New York couple have their own shrine to the town's most famous export in their spare room, as their Old Pulteney collection takes pride of place in the space which is dedicated entirely to their fondness for whisky.
Mr Pfeil and his wife, who kept her maiden name Gallagher, had even planned their honeymoon around visiting the town, and looked forward to sampling various vintages of the single malt on the windswept Caithness coastline.
But those plans have now hit the rocks, with the sudden closure of Ackergill Tower – where the pair had booked a "crazy expensive" three-night stay from Christmas Eve to Boxing Day.
The couple were told about the immediate shut-down just seven days before they were due to arrive for the trip which they had spent a year plotting.
Mr Pfeil said he only learned more about the situation after reading Press and Journal articles online, and hurriedly arranged alternative accommodation at Glenoce.
While the pair are determined to make the most of their time in Scotland after arriving on Friday, they are disappointed they will not be able to visit Wick.
---
>> Keep up to date with the latest news with The P&J newsletter
---
Mr Pfeil, a 24-year-old software engineer, said: "When we got an email from Ackergill Tower advising us our stay was cancelled seven days before we were meant to get there, we were pretty shocked.
"That was our dream honeymoon, we were thrilled to go as neither of us have been to Scotland before but we love the country.
"We are huge whisky fans and one of the rooms in our two-bedroom apartment in Manhattan is devoted to our whisky collection.
"We call it our whisky room and it has cabinets of Scotch, though our absolute favourite is Old Pulteney and that is the on-site whisky of Ackergill Tower.
"We wanted to try all the different ages of Old Pulteney that aren't available in New York."
The pair had hoped to go on scavenger hunts in the romantic surroundings of the castle, watch the Queen's Speech on Christmas Day and sip whisky by the North Sea.
Ms Gallagher works at New York University, and the couple were married on July 27.
The owners of the luxury 15th century venue, Clarenco, have not explained the sudden decision to close it down one week before 30 of its 33 rooms were booked for Christmas stays.
About 40 members of staff were told about the loss of their jobs last week.
Mr Pfeil added: "Firing all the staff just before Christmas makes it feel like Scrooge is running the establishment."
A planning application to convert the hotel into a house has been lodged with Highland Council, but Clarenco maintains that it will reopen in March as a hotel.