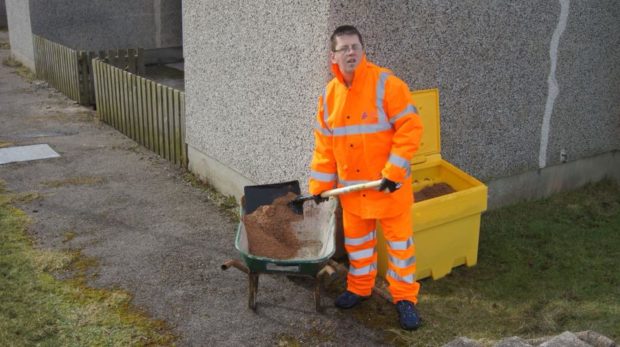 Last winter, he waged a one-man battle against the Beast from the East to keep his neighbours mobile.
And now, Caithness resident Paul Cannop has launched a fundraising campaign for a gritter to replace the wheelbarrow he used in the past.
Paul Cannop,41, began laying salt across his local community following a call for help from the Highland Council earlier this year as bad weather swept across the north.
Venturing out in the early hours of the morning, he was committed to ensure the pathways remained safe for neighbours including the elderly and the disabled.
He said: "I saw an advert on the Highland Council website asking for help with gritting. I put in application to do this and a couple of weeks later I got a wheelbarrow from the Council.
He said: "I was out in the beast from the east this year. I was out at 7.30am in the morning gritting the streets and the paths for the people.
"I took my wheelbarrow and gritted the paths so my neighbours, people with disabilities or health issues don't slip on the ice and to keep them safe in my local community."
Mathew Reiss, councillor for Thurso and Northwest Caithness, has been a keen supporter of his efforts, helping him obtain a high-vis jacket, a shovel and a grit bucket.
Mr Reiss said more people need to follow his example. He said: "Paul Cannop is setting a very high standard on his community efforts and there are shop keepers who clean the front of the shops, gritting the paths and cleaning windows. The more people who are physically able to follow his example the better. The reality is the council can't cover all of the areas in the community of the work he is proposing to do."
Determined to keep the paths clear for Caithness residents, Mr Cannop has now launched a fundraising campaign to raise £300 towards the purchase of a walking gritter.
He added: "I have decided to start fundraising for a wheeled walking gritter. Seeing as I have the wheelbarrow, I need a gritter. I now have around £250, so I think I have enough for it. It costs £226 for it so some of the money will pay for the delivery from Inverness.
"The money I have left I will donate it to the North Highland Cancer Information and Support Centre in Thurso."