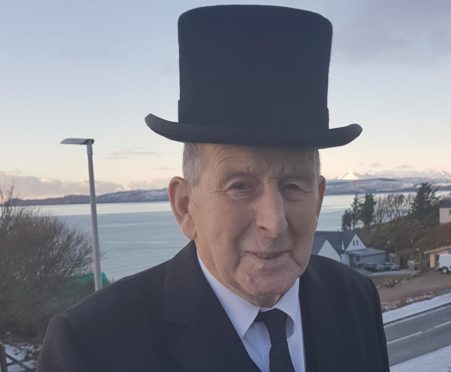 The longest-serving undertaker in Lochaber, Robert Corson, died last week at the age of 85.
Mr Corson had been living in the MacIntosh Centre Care Home, and was laid to rest in a simple graveside ceremony, almost a year to the day after the death of his wife Jessie.
His nephew, author Barry Hutchison, gave a short eulogy and talked about an uncle who was full of mischief, and whose unique style of wearing braces was something he occasionally tried to emulate.
Mr Hutchison said: "You never knew when Uncle Bobby would turn up. Sometimes, he would be there when my sister and me got home from school, lying in wait, ready to jump out and menace us with his unique brand of mayhem.
"As I got to know him better, I saw that, beneath the wind-up merchant, was a man who would go out of his way to lend others a hand.
"Somebody who, like Jessie, didn't just live in the community, but served it tirelessly.
"Whether helping with funeral arrangements for a friend or neighbour, standing in for Santa at the Christmas Craft Fair, or helping entertain the residents at the Macintosh Centre, Bobby always put the needs of others before his own."
In the late 1940s, when Mr Corson was just a teenager, he was a member of Lochaber Mountain Rescue team, regularly putting himself at risk to help others in trouble.
He was careful and conscientious, always ready to share his years of knowledge and experience with those working alongside him.
But there were also mishaps along the way.
As Mr Hutchison recounted: "There was the time while working in the attic space of the Mallaig pub, the Chlachain, for example, when he made a point of alerting those he was working with to the dangers of the open loft hatch, before an accidental backwards step saw him plummet through it himself.
"He never wanted anyone to make a fuss over him, and while he may not have been renowned for his showing his emotions, he cared deeply for his friends, his neighbours and, of course, his family."
The couple were married in 1959, soon after Mr Corson completed his National Service. They moved to Mallaig soon after, and quickly became part of the community.
And they served everybody around them, whether friends, colleagues or strangers, with dedication and commitment for the best part of 60 years.