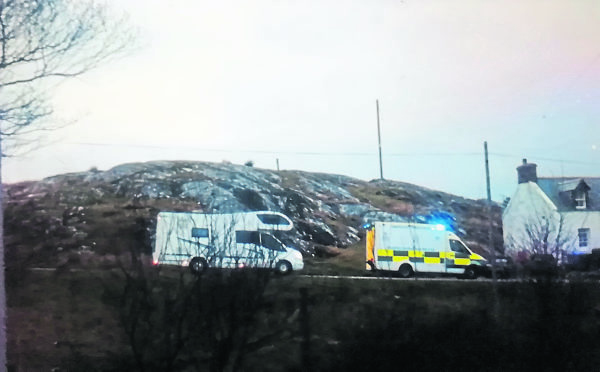 Unions and locals have voiced fears that lives are at risk on the NC500 tourist route after occupants of two campervans clashed with an ambulance crew on a New Year's Day call.
The incident happened on a single track road near Stoer, in Sutherland, after medics received a call to a patient suffering an asthma attack.
Neighbour Janet Robertson said the campervans blocked the road after its occupants claimed they could not pass the parked ambulance – which still had its blue lights flashing.
She added: "A number of vehicles had already been able to pass the ambulance but the tourists decided they couldn't – and they also refused to reverse, claiming they were unable to.
"There was some verbal abuse from those in the campervans, directed at the two paramedics and to us locals, before the ambulance crew themselves decided to reverse their own vehicle to make way for their tourists to pass.
Sometimes we just don't know what to say. This was the note left on an ambulance today. At the time, the crew were helping a man who was extremely unwell after vomiting blood. They took him on blue lights to hospital where he was in a critical condition. #patientscomefirst ??? pic.twitter.com/RwCCVmZgrA

— West Midlands Ambulance Service (@OFFICIALWMAS) November 10, 2017
"Thankfully the woman who suffered the asthma attack didn't need to be rushed to hospital on this occasion, but it could put lives at risk during the peak tourist season when more campervans are on the roads."
Liz Gordon, regional GMB Scotland union officer, said: "I have two significant concerns. There is an obvious risk to patient safety if treatment is delayed and, secondly, there is a risk to staff who have to work on the sharp end of this issue.
"We represent staff who have complaints lodged against them and sometimes the employer isn't as supportive as they could be, preferring to pacify complainants rather than protect staff.
"With NC500 predicated to be busier this year and with the number of cruise liners increasing significantly, this is a problem throughout the Highlands and it merits a multi-agency discussion on how best to educate visitors to our fair land, and provide support for our hard working public employee.
Heart warming note left on one of the Flintshire Ambulances#Welshambulance pic.twitter.com/MDFn7HRqHW

— Dewi Lloyd (@dt_lloyd) August 22, 2018
A Scottish Ambulance Service spokesman confirmed an ambulance crew attended to a call in the area at 1.10pm on New Year's Day.
He said: "We would encourage members of the public to be respectful and patient at all times when an ambulance is attending an emergency."
Tom Campbell, managing director at the North Coast 500, said: "Safe driving advice is prominently highlighted on our website.
"In this advice, we have been clear that certain points along the North Coast 500 route are unsuitable for larger vehicles, such as campervans.
"Our guidance includes tips on how to enjoy the North Coast 500 responsibly, safely and respectfully.
"As well as referring to our advice, all visitors to the North Highlands should be familiar with The Highway Code."
Caution on the roads
On just one day last year 85 vehicles were stopped by police patrolling the NC500.
Cautions were issued to 45 motorists, with 12 reported to the procurator fiscal – seven of those in relation to speeding – following the crackdown in September.
In August police issued an appeal after four high-powered vehicles were reported driving dangerously in the Ullapool area.
Organised convoys are also an issue on the route.
In mid-summer eight German-registered Porches were seen on a stretch of road in the Strathcarron area.
So upset to be sent this by one of our crews this morning! Along with this note left on their ? they received a load of verbal abuse!??@OFFICIALWMAS @StaffsPolice pic.twitter.com/c4UYdcjv86

— Katie Tudor (@wmaskatietudor) February 18, 2018
On another occasion, 12 Italian-registered Minis held up traffic driving nose-to-tail near Tongue. Police were called to warn them to drive in no more than pairs.
Around 24 campervans, meanwhile, were found at a standstill near Bettyhill, causing major disruption. The high volume of traffic is also having an effect on the condition of the roads.
It is estimated the popular 516-mile loop around the north coast of Scotland, starting and finishing in Inverness, generated an additional £9 million to the economy in 2016, attracting an extra 29,000 visitors to the area.
A Highland Council spokesman said it has committed £9.7m to undertake road repairs this financial year, £2.5m more than the previous year.