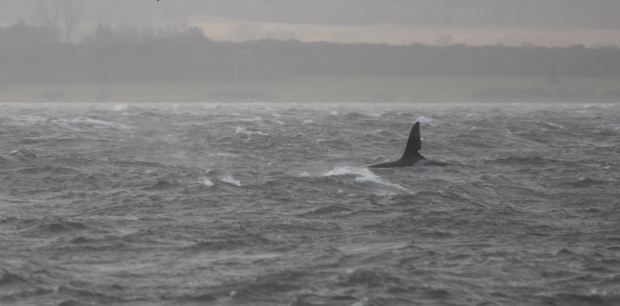 A famed orca made a rare appearance in the Moray Firth at a location better known for its sightings of dolphins than killer whales.
John Coe, as he is known to conservationists, was spotted near Chanonry Point in the Black Isle by Whale and Dolphin Conservation field officer Charlie Phillips after receiving a tip-off from a friend.
The bull, identifiable by missing chunks from his dorsal fin and tail, was joined by a fellow orca; however, efforts to identify the second orca have been inconclusive.
Mr Phillips, who managed to snap the orca for the first time at Chanonry Point, said: "A friend of mine phoned me earlier this morning to say they had seen two great big dorsal fins in the water and I immediately thought we might have a couple of orcas here.
https://www.facebook.com/permalink.php?story_fbid=2304485236439654&id=1724636544424529
"My friend is used to spotting dolphins so was aware that these were larger than usual.
"I headed down and managed to see something big and black in the water.
"The weather was shocking with high winds and it being quite grey and wet so there wasn't much light."
The famed orca is more commonly spotted near to the Isle of Mull, however, has been known to venture from the Hebridean waters, with sightings taking place near Dingle in south-west Ireland and Anglesey in Wales last year.
It is believed the missing chunks from John Coe's dorsal and tail fins are the result of a lucky escape from a shark attack.