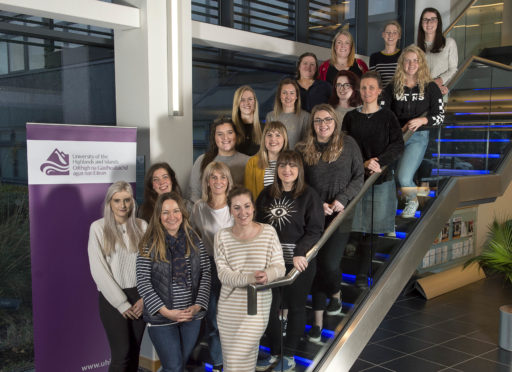 The University of the Highlands and Islands has announced the intake of its latest cohort of midwifery students on a revamped course in a bid to meet the needs of communities across the north of Scotland.
The shortened 20-month postgraduate programme has been introduced at UHI in partnership with NHS Highland, NHS Western Isles and NHS Orkney, with 19 recruits starting the course this week.
Professor Crichton Lang, UHI's deputy principal and head of School of Health, Social Care and Life Sciences, said: "We are delighted that all of the development work to establish this programme has now come to fruition in this first cohort of trainee midwives beginning their studies.
"We wish them every success and are pleased to welcome them to our growing body of health, allied health and social care students."
The Scottish Government has committed to provide better support to increase the number student nurses and midwives by increasing the bursary available from £8,100 to £10,000 by 2020/21, as well as funding the salary costs of existing employees undertaking the course.
Health Secretary Jeane Freeman said: "Our midwives are critical to the success of our NHS and I am delighted that the University of the Highlands and Islands is welcoming its first intake of students onto its new, innovative midwifery programme.
"We are determined to ensure we recruit and retain the next generation of NHS staff to meet the needs of the country and courses like this, which support registered nurses to retrain as midwives, are a vital part of this."
The news has also been welcomed by the three partner NHS boards involved, with Mary Burnside, head of midwifery (interim) for NHS Highland, stating: "We are delighted to welcome the first cohort of students on the shortened midwifery programme.
"This will see an increase in the number of student midwives training in Highland and ultimately an increase in midwives taking up posts in the area.
"This is an exciting venture for midwifery education and practice in NHS Highland and we would like to wish the University of the Highlands and Islands and the new students every success with the programme."
Gordon Jamieson, chief executive of NHS Western Isles, commented: "This is a very welcome development in the development of our future services and an excellent opportunity for practitioners."
David McArthur, director of Nursing, Midwifery and Allied Health Professions at NHS Orkney, said: "It is fantastic to see the first group of students commence their studies.
"We are incredibly supportive of this initiative which enables our future midwives to train much closer to home. We look forward to welcoming them for their placements in due course."