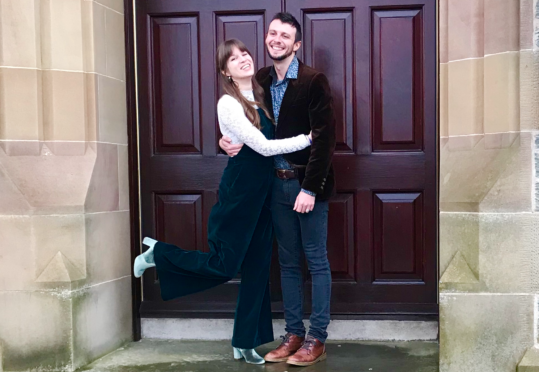 Surprise weddings are one thing – but what about tying the knot on the other side of the world in the middle of a Shetland winter?
That was the case for an Australian couple who turned a normal family holiday into a trip they would never forget after deciding on their visit to the UK to get married in Lerwick.
Brigid Krause and Shane Eaton, both 26, spent their wedding night with a handful of family watching a fire festival procession in the company of revellers dressed as "Vikings and Pikachus" after tying the knot earlier that day at Lerwick Town Hall.
Brigid said their wedding was "halfway between spur of the moment and pre-planned" as the couple decided just days before to marry in Shetland, with their friends and other family thousands of miles back home in Australia.
---
>> Keep up to date with the latest news with The P&J newsletter
---
The original plan was for some of Brigid's family – a party of seven people – to travel the UK and Ireland to celebrate her mum turning 60.
She said: "Trip underway, Christmas and New Years – very exciting and celebratory time of the year, and Shane and I thought…why don't we get married?
"Avoid all the lengthy stress of planning a wedding – can't say I ever had the inclination to wear the pretty white dress either…and we'd probably do it one day, why not today?
"Or at least on this trip somewhere exciting and different. Somewhere I've always wanted to go and somewhere out of the ordinary."
An email was soon dispatched to the Lerwick registry office and the plans were set in motion. Brigid's family, however, only learned of the wedding plans the night before the big day.
She said: "We only told my mum the night before, when we got home from the pub that she may want to get a bit spruced up in the morning because she had a wedding to go to at 11am. It took a while to sink in before she realised we were talking about ourselves.
"I think her shock is what made us even more nervous about how everyone at home was going to react to such an unplanned and unconventional wedding…on Shetland of all places.
"But at the end of the day we knew that getting married on the other side of the world, without any fuss or drama, was the only way we were going to be able to look back on the day and know we did what made us happy."