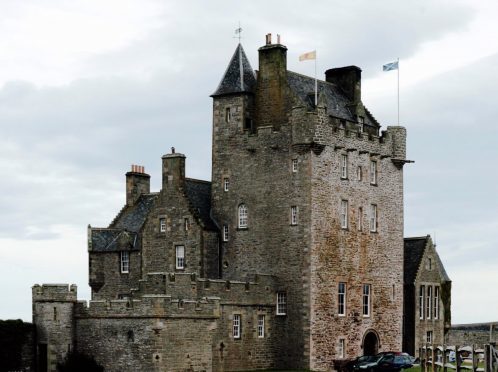 Highland Council has approved plans to transform a luxury north hotel into a private holiday home for an American millionaire, despite concerns its loss will harm the local economy.
The 15th century Ackergill Tower, beside Wick, has been a hotel for about 30 years – hosting an array of exclusive gatherings and celebrity guests in that time.
It also served as a popular wedding venue and has been promoted to tourists using the North Coast 500 route as "one of the finest hotels in the Highlands".
However, owners Clarenco placed it on the market in 2015, and last year slashed its asking price from £4.5million to £3.9million as they grew increasingly desperate to offload the business.
Ackergill Tower was abruptly shut last month, leaving 40 employees jobless before Christmas and ruining scores of festive breaks at the last-minute.
Clarenco insisted the business would reopen in March, despite American philanthropist Betsee Parker lodging an application with Highland Council to change the use of the building from a hotel to a private home.
Clarenco refused to explain the apparent contradiction, nor answer any questions on the sale of the A-listed venue and its outbuildings.
And yesterday, the organisation's chief executive, Suzanne Hurndall, confirmed it would not reopen.
She said: "It is with regret that I can confirm that a transfer of ownership is imminent and unfortunately Ackergill Tower will no longer be operating as a hotel.
"I would like to take this opportunity to thank all of our staff and suppliers who have worked with and for the Tower over the years."
---
>> Keep up to date with the latest news with The P&J newsletter
---
Highland Council has published a report on its decision.
It states: "While the loss of an important local business and employer is regrettable, the application for the change of use must only be determined in accordance with considerations relevant to planning.
"As an application for a change of use only, there are no design issues to consider that would result in a change to its appearance or character.
"Any proposals for future changes will require separate permission.
"Residential use is considered appropriate for the building because it re-establishes its original purpose and ensures its continued occupation and subsequent upkeep."
Wick and East Caithness councillor Raymond Bremner described the move as "a blow to the local economy".
He added: "The failure of Ackergill Tower to remain as a first class exclusive-use venue and hotel, and the inability to sell it as an ongoing concern, will be the legacy of Clarenco and one it shouldn't be proud of.
"The tower had a lot of dedicated, knowledgeable staff who were committed to it.
"Many international clients who were frequent visitors will be disappointed and shocked to hear of the sale, never mind the disappointed people who will be put out by having to make alternative accommodation arrangements in the future.
"While I wish the new owner well, there is no doubt that the closure of the tower, as an iconic place to stay here in the north, will leave a bitter taste with many."
Edinburgh-based property firm GLM lodged the application on Ms Parker's behalf but did not reply to requests for comment yesterday.
Ms Parker, an ordained Episcopalian minister, is the 17th Baroness of Lochiel and was estimated to be worth $10million (£7,604,850) in 2015.
Wick hotel hosted the rich and famous for decades
The Clan Keith inherited the lands of Ackergill in 1354 and it is believed that Ackergill Tower was built the following century.
Battles raged over possession of the landmark over the ensuing centuries, with it occasionally being seized by force.
In 1598, John Keith of Subster attacked the tower in the dead of night, taking its occupants by surprise and capturing it.
In 1612, the Sinclairs acquired Ackergill Tower once again, but through legal means, when it was sold to the Earl of Caithness by the Earl Marischal.
I had heard, very very sad news. That's a special place filled with lovely memories ?

— Phillip Schofield (@Schofe) December 19, 2018
Some historians reckon that Oliver Cromwell used Ackergill Tower to garrison his troops during his siege of the Keith's Dunnottar Castle at Stonehaven in 1651.
It was later bought by Sir William Dunbar of Hempriggs, and extensively renovated.
The building remained in the hands of the Dunbars until 1986, when it was sold and underwent a two-year period of restoration before opening as an exclusive hotel.
Richard Branson, Jack Nicholson, Michael Douglas, Jeremy Irons and the cast of reality TV show The Only Way Is Essex have all since stayed at the venue.
And comedy legend Sir Billy Connolly booked in while filming a travel show about Scotland and performing a show in Wick in the 1990s.
TV presenter Phillip Schofield got married at Ackergill Tower in 1992 and enjoyed several subsequent stays with his family.
After being asked about the sale on social media, he said the building's return to private use was "very very sad news".
Mr Schofield added: "That's a special place filled with lovely memories."