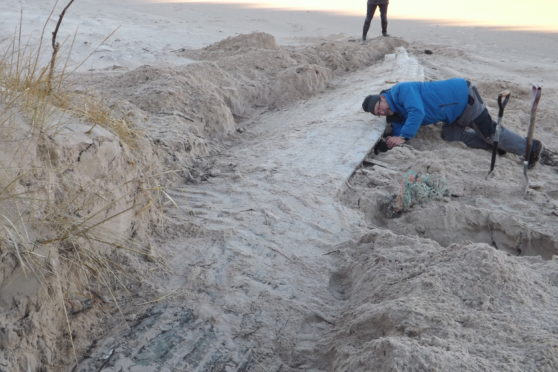 A mystery discovery on the Nairn coastline could be the remains of a 19th century cargo vessel – and the Press and Journal reported the shipwreck.
The wreckage, thought to be around 50ft long, was first discovered beneath the sand dunes of the Old Bar on Nairn's east shoreline by former Sailing Club Commodore Robert Gordon during a leisurely walk in the area.
As he tried to find an answer to the mystery, it was originally thought that it could be the wreck of Norwegian timber boat the Himalaya, which ran aground in a storm off the area around 1885.
But now, Mr Gordon says the vessel is "more likely" to be linked to Aultnaskiach, a cargo vessel which came ashore during a harsh storm in November 1826.
He says further research into the vessel's size and type will help pin point its true origins.
---
>> Keep up to date with the latest news with The P&J newsletter
---
He said: "It's difficult to lay it down until we know the length of the boat and the type of vessel. Once we know the type of the vessel, it will give us a better idea of what the vessel actually is.
"The wreck is in the same area as the Aultnaskiach but there have been a number of wrecks around there, some of them on the admirality chart or published in the local news at the time. We need more information on the Aultnaskiach to help narrow it down.
"It's been well preserved under the sand dunes for so long. If we can get the weather to improve, we will get people from the sailing club and go out and do a bit more excavation. We have to do it in one day though. The sand blows and covers it up, particularly from the west."
In an article in the Press and Journal on Sunday, November 26, 1826, we told how the Aultnaskiach, understood to have been on passage from Aberdeen to an unknown location, was carrying valuable cargo when it was driven ashore five miles east of Nairn as a result of gale force winds battering the coast.
The discovery, made on the remote sandy spit, has since become of great interest to members of the community.
Councillor Peter Saggers, for Nairn and Cawdor said the discovery was of great "historical interest". He said: "Certainly it's a very interesting discovery if it does date back to the early 18th century. The sand all along the coast does shift quite quickly. There is a long history of sand bars covering up wrecks and other objects and being recovered again.
"It's of great historical interest and I would hope that is stays uncovered for a while to explore exactly what it is."